Good afternoon!  I have been trying to read the books on my shelf but I also have been loving my library.  This month I have a good mix of both books I own and library books. Here is my eclectic October TBR.
Shadowshaper by Daniel José Older – This is an urban paranormal YA series that's been on my radar.
Akata Witch by Nnedi Okorafor – I have heard nothing but good things about Nnedi Okorafor's Binti series, I came across this book at a library sale during the summer and picked it up.  I think this will be a good read for the month and I hope to pick it up very soon.
American Gods by Neil Gaiman – This book is big and I hope I will be able to get through this.  This follows Shadow who is a god.  I'm not sure what to expect but I  have heard it is weird and I love Neil Gaiman's writing.
The Enemy by Charlie Higson – I believe this is a world where the adults are zombies and the teenagers aren't.  I don't know but I'm interested to read it, because I'm not a big fan of zombies but I heard this one was pretty frightening.
The Last American Vampire by Seth Grahame-Smith – This was a cover buy at the Dollar Tree.  We'll see if I like it.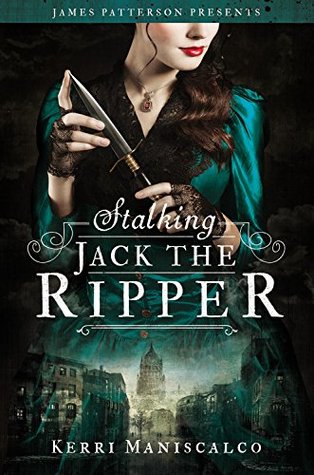 Stalking Jack the Ripper by Kerri Maniscalco – I heard this book was creepy and atmospheric.  I don't like to be scared but I don't mind being creeped-out occasionally.
I'm currently still reading Harry Potter and the Order of the Phoenix by J.K. Rowling – This book is so good and this is the first time that I have felt that the movie did not do the book justice. Any who I am taking this pretty slow because I don't want to speed read it and miss all the foreshadowing.
I also started World War Z by Max Brooks and I have feelings about this book but I'm not far enough in to voice them yet. It's a zombie book, we'll leave it at that.
I just recently finished A Discovery of Witches by Deborah Harkness and I will be doing a full review on this book later this week.
These are the 5 books I hope to get through, in the month of October.  Here are a few more books that are on my radar too but I don't expect to get them all done:
And I Darken by Kiersten White – This is a gender-bent Vlad the Impaler story  but so much more and I have heard pretty good things about it.
Our Dark Duet by Victoria Schwab – I want to read this but I don't want the duology to end.  We shall see.
Lincoln in the Bardo by George Saunders – This is George Saunders first novel.  He is know for his short stories.  This is about the death of Abraham Lincoln's son and Lincoln going down to a crypt to visit him.  It's suppose to be experimental and interesting and it's been nominated for a crap ton of awards.
Here is my October TBR.  I do plan on (maybe) participating in the a couple of readathons this month but we will see.
What are you reading this month?  Wanna buddy read anything?  What are you most excited about for Halloween/Fall?
Much Love,
Tasha