It's Blogmas Day 1!! I'm so excited to be doing this.  I have been planning it for weeks.  I will have my usual bookish content, but in addition to this I will also have a few gift guides and discussion post up throughout Blogmas.
Today we will be talking about all of the books that I completed in the month of November.  For November I was able to complete 15 books.  Here is the breakdown:
1 Middle Grade:
Good Night Stories for Rebel Girls by Elena Favilli and Francesca Cavallo 
2 Non-fiction:
The Secret Lives of Introverts by Jenn Granneman
American Fire: Love, Arson, and Life in a Vanishing Land by Monica Hesse (audio)
6 Young Adult:
Maus: Volume 1 by Art Spiegelman (graphic novel)
City of Bones by Cassandra Clare (audio)
Pride and Prejudice and Mistletoe by Melissa de la Cruz – full review here
Kiss Me in New York by Catherine Rider – full review here
Wonder Woman: Warbringer by Leigh Bardugo
Three Dark Crowns by Kendare Blake
6 Adult Fiction:
The Arrival by Shaun Tan (graphic novel)
The Couple Next Door by Shari Lapena 
Big Little Lies by Liane Moriarty (audio)
The Uncoupling by Meg Wolitzer (audio)
Shadow of Night by Deborah Harkness (Book 2 in the All Souls Trilogy)
I sort of participated in Read-A-Thin, Non-fiction November, and Contemporary-A-Thon but I didn't want to do a separate wrap-up for each or list the challenges.  November was a very….different month for me but I'm back on track.
Anyway, let's talk about my favorites for the month:
Good Night Stories for Rebel Girls was an absolute favorite.  I took my time with this one and read it over the entire month.  Each story was short and sweet and the illustration were all done by different artist.  The book taught me so much about women I had never heard of who did amazing things.   I put this on my Christmas list because I must have it.
Big Little Lies by Liane Moriarty was another great read and excellent audiobook listen.  This was my second time reading a Liane Moriarty book and honestly I didn't really enjoy Truly Madly Guilty.  Big Little Lies, however, is definitely worth all the hype that it is receiving.  The story was engrossing and the plot twist at the end made me gasp out loud.  It was fast-paced and I could not get enough of this book.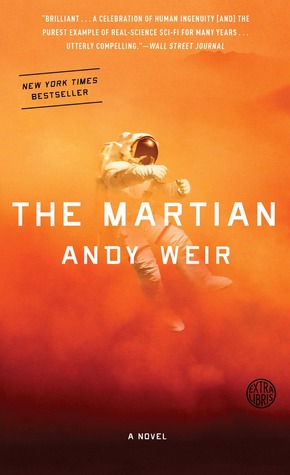 Lastly let's talk about The Martian by Andy Weir.  What took me so long to read this book?!?!  I was totally engrossed in this story and the science nerd in me was so delighted.  Mark Watney will go down as one of my favorite characters of all time and I literally cried the last 30 pages.  I didn't know that a sci-fi book could make me feel all of this.  The Martian is definitely a must read for people who read a lot or people who don't read very much at all.  This book has something for everyone and it is definitely going to be on my favorite books of the year.
Well that was my November reading month in a nutshell.  I had a solid reading month with books that I know I will revisit and some, not so much.
What did you read in November?  What was your favorite?  Let's chat in the comments.
Much Love and Merry Blogmas,
Tasha