Hey y'all! I had a seriously busy weekend because my son turned 9 on Saturday. I didn't do a Friday Reads because I didn't think that I would have a lot of time to read, but I actually did! I finished two books and I will probably finish another today.  Here is what I have read lately.
Recently Finished:
Swing Time by Zadie Smith – I listened to this on audiobook and I enjoyed it but I didn't really care for any of the characters, and since this was a character study, it took away some of my enjoyment. Overall, I gave this a 3 stars. Not bad but I would be interested to read something else that Zadie Smith has written.
The Bear and the Nightingale by Katherine Arden – This book was fantastic!! The only reason I didn't give it the full five stars was because the first 100 pages dragged a little for me. The Bear and the Nightingale follow Vasilisa and her family. Vasya has the sight and can see the different creatures that help around the houses in the northern village where her father is a Lord. I was completely enraptured in this book and I could not put it down. The writing is so descriptive and beautiful that I actually felt the cold of the snow. I annotated the crap out of this book and I cannot wait to revisit this setting in The Girl in the Tower, which is impatiently waiting on my shelf. I ended up giving this a 4.5/5 stars.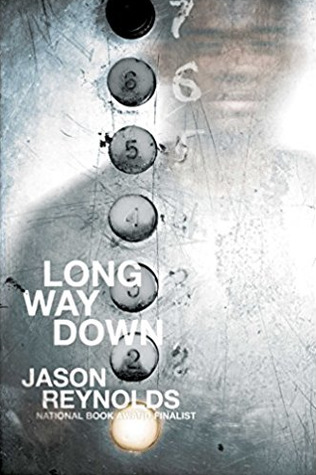 Long Way Down by Jason Reynolds – If you have been on my blog any number of months you know that I am absolutely not a book crier.  This book made me cry something fierce and I re-read the last section and cried again. This book follows Will who is seeking revenge for the death of his older brother. The book is written in verse and takes place over like a minute and a half. How Jason Reynolds is able to evoke so much emotion using so few words is a testament to his writing prowess. This book tackles gun violence, black culture, and family. I borrowed this from the library and I cannot wait to get my hands on a physical copy. I gave this book 5/5 stars. Go read it and if you have read it, I'm gonna need to talk to you because I have thoughts.
Currently Reading:
Old Man's War by John Scalzi – I am probably going to finish this book today. I started it yesterday afternoon and I have been unable to put it down. This book follows John Perry who has enlisted in the Colonial Defense Forces, which you cannot enlist in until you are 75 years old. This is a sci-fi where humans have colonized on other planets and moons in other galaxies. The CDF is used to protect the colonies from alien predators. This story had completely captured me from the beginning and I just had to know what happened. This is my first official adult sci-fi and I am loving it. I will definitely be continuing this series.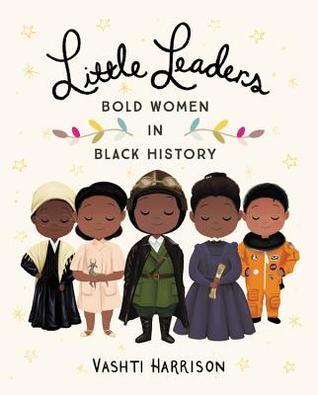 Little Leaders: Bold Women in Black History by Vashti Harrison – This is in the same vein as Good Night Stories for Rebel Girls which I read last year and loved! This one focuses on known and lesser known black women in history. I have only read a few of the stories and I have loved them. This is one I will be adding to my collection.
The Diabolic by S.J. Kincaid – I am about 60% through this book and honestly I'm not loving it. I'm still really confused about the world. I have no connection to the characters and what happens to them. The only thing that is keeping me reading is the plot twist that get thrown in occasionally but even those are lackluster in my opinion. I will be finishing the book because it came out of my TBR jar and it's one of my read harder challenges but not loving this one.
What I expect to pick up in the next week:
Nevermoor: The Trials of Morrigan Crow by Jessica Townsend – This is a middle grade fantasy novel in the vein of Harry Potter where there is a "cursed" child and she is whisked away to a magical school. I am interested in this one because I have heard nothing but fantastic things about it. I picked it up from the library and I am excited to get into this one.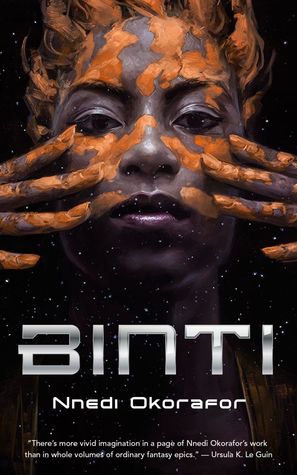 Binti and Binti Home by Nnedi Okorafor – I have both of these novellas on audiobook and I think the third one in this trilogy will be coming out soon so I would like to read these before that one comes out. The audiobooks are less than 3 hours so I could listen to them while I'm at work for the rest of the week. Also, I read Akata Witch last year and I really enjoyed the writing in that one.
Descender, Volume One: Tin Stars by Jeff Lemire and Dustin Nguyen – This is a graphic novel featuring A.I.'s and it sounds really interesting. I needed some short fiction to breakup some of the chunkier things that I am reading.
Well this is everything that I have read, in the middle of, and will be reading. What books are you currently reading or planing to pick up? Have you read any of these books, and what were your thoughts? Let's chat in the comments.
Follow me on social media:
Twitter: @amaysn1
Instagram: @tashalikesbooks
Goodreads: AmaysnReads
Much Love,
Tasha