Hey y'all! Today I wanted to do a batch review of two books that have similar themes but are also very different. The common thread between these two stories is that both of the main characters in the book are "First Generation Americans." I find this concept very interesting as this is an experience that I will never be able to have. My ancestors came/were brought over way before I got here. Anyway, this weekend I just happened to read I'm Not Your Perfect Mexican Daughter by Erika L. Sánchez and The Namesake by Jhumpa Lahiri. Let's talk about I'm Not Your Perfect Mexican Daughter first.
I'm Not Your Perfect Mexican Daughter
The story takes place in the south side of Chicago where we follow Julia who is the younger sister to the "perfect Mexican daughter" Olga.  At the beginning of the story Olga is killed in an accident and we follow the story from there.
What I thoroughly enjoyed about this book was the storytelling. Sanchez weaves together a story with characters that you really  want to get to know and understand. She is able to have elements that are both relatable, heartbreaking, and hopeful.  There was never a point in this book that I felt lagged.  The teenage angst in this book was totally believable and never annoying. There is a light romance in the story but it felt necessary for us to fully understand our character.  Having never been an immigrant, I felt that the immigrant experience was respectfully and accurately portrayed.
A con for me is that I felt like the discussion about the class difference between Julia and her love interest could have been fleshed out more.
Parental Warning: sex, mental illness, and sexual assault
Overall, I thought that this book was excellent and I highly recommend this book for older teens and adults who want to learn what it is like to be a 1st generation immigrant. This is especially a good story for teens who are struggling to find their place and live up to their parental expectations.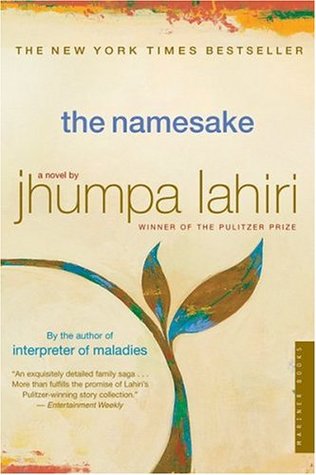 I didn't know what to expect when I started The Namesake but I had previously read Jhumpa Lahiri's Pulitzer Prize winning short story collection Interpreter of the Maladies and I enjoyed it but wasn't blown away by it. The Namesake was fantastic.
The story begins with an Indian couple who are in an arranged marriage and immigrate to the United States.  From there they have a son, Gogol, who the book follows from there.  We get the point of view of Gogol and his parents throughout the book. But Gogol is the main character that we follow.  The Namesake explores the difficulties of trying to preserve tradition while trying to fit into the country you are in now. It also zeros in on the differences between immigrants and their children who know nothing else but America. The book spans from the 1960s to 2000. So we get to see Gogol through his entire childhood through his early adult life.
Lahiri has a beautiful way of creating an image and evoking an emotion. Her writing is flowery and descriptive but it has a succinctness that so many authors want to achieve but generally fall short. I was enthralled by this story and read it slowly so I could savor it.  I find Indian culture in general fascinating because I don't know a lot about it. Lahiri paints a picture that not only makes you understand it, but also makes you appreciate why immigrants cling to one another.  There were times that I was heartbroken and sad. That I truly felt for the characters and wanted to hug them. This is a book you really want to take your time with so that you can enjoy Lahiri's beautiful writing.
Overall, I would recommend this book for people who enjoy a good immigrant story and/or a coming of age story.
That's it for two books that I read that deal with the immigrant and First Generation American story.  What are some  books that relate to these topics that you have read? I'm always looking for suggestions.
If you aren't following me on social media, then what are you doing?
Twitter: @amaysn1
Instagram: @tashalikesbooks
Goodreads: AmaysnReads
Much Love,
Tasha