Hey y'all! I know this is coming up late, but I still wanted to talk about what I read this past weekend and what I plan to read this upcoming week. I was home sick for the majority of this weekend so I was able to knock out some books.
What I finished:
A Reluctant Princess by Alyssa Cole – This is a romance book featuring a Black woman and an African Princess. This was an e-ARC I received from Edelweiss for review and I will be putting a full review up before the release date on February 27th.  But generally, I really enjoyed this book and I will be continuing this series.
Princess Jellyfish Omnibus Volume 1 by Akiko Higashimura – This was only my second manga ever and I loved it! This story follow an apartment of geeky girls who have pretty much sworn off boys. When a "stylish" stumbles upon one of the girls while she is at the aquarium, their world is turned upside down.  Princess Jellyfish was fun and I want to watch the anime and continue with the manga series.
The Power by Naomi Alderman – This was an extremely popular book that was all the rage last year and it won the Bailey's Woman's Prize for Fiction. The story is about a world where women become physically more powerful than men and the effects of that. I see the appeal of this book, but I didn't love it.  I found the first 150 pages a little tedious to get through. The story felt a little disjointed and I don't feel that it ever really came together. I will say after page 150 I was flipping the pages a lot more and wanted to see how it would end but I still didn't care. This makes me kind of sad because I really wanted to enjoy it.
What I plan to read this week:
Sing, Unburied, Sing by Jesmyn Ward – I know! I've talked about reading this book forever.  I am currently about 100 pages into this book and while it is dense I am truly loving it.  I have been annotating as I'm reading and absorbing all of Ward's beautiful writing. This is a story about a neglectful mother who loads up her kids and takes them to go pick up their father from prison (this is a very surface summary). The book has already explored family dynamics, motherhood, and tragedy. I can't wait to curl up with this book and finish it.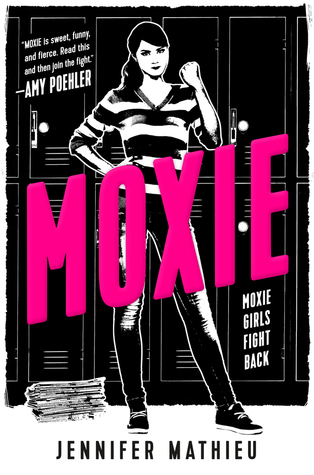 Moxie by Jennifer Mathieu – This book was perfect for Feminist Lit February. In the story we follow Vivan who is fed up with the treatment of women at her Texas high school and the privilege that is shown to the football team.  Inspired by her mother who was a RIOT girl in the 90's she starts a feminist revolution.   There are a few things that make this a good read for me, 1) I love books set in Texas, because I am a Texas girl through and through and 2) feminist revolution.  I'm only about 20 pages in so I don't have much to say about the book.  I will probably do a full review when I'm done
 My current audiobook listen is:
An Ember in the Ashes by Sabaa Tahir – I have been wanting to read this book for a while because I have heard about the strong female character and the world building. I'm only about one hour in so I don't really have any thoughts about it.
That is everything that I finished and everything that I plan on reading in the next week. What have you recently finished? What are you planning to read this week? Let's chat in the comments.
FOLLOW ME ON SOCIAL MEDIA!
Twitter: @amaysn1
Instagram: @tashalikesbooks
Goodreads: AmaysnReads
Much Love,
Tasha