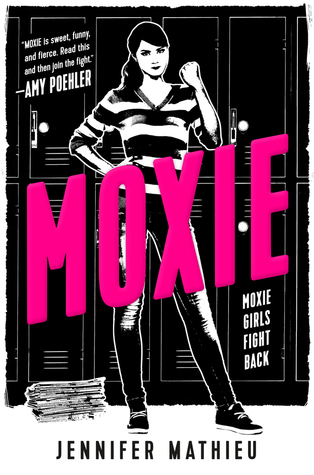 Hey y'all! Back with another review for you guys. Today I will be talking about Moxie by Jennifer Mathieu. Moxie is about Viv, who is fed up with her small Texas high school's treatment of girls.  Inspired by her mother's Riot Grrrl days, she puts out an anonymous zine where small acts of rebellion get the attention of the administration. Things get a little out of control and the story takes off.
I really enjoyed this read.  It reminded me of my own Texas high school upbringing where football players could pretty much get away with anything and everything surrounded the football team.  Viv was an excellent and realistic character. I liked how she wasn't some loud mouth superhero, but that she had doubts and insecurities that caused her to be hesitant to lead this movement. The romance in the book was great and I adored the love interest. I liked how he wanted to understand what Viv and the other girls were going through and, while he thought he was doing his best, he just didn't get it and that was okay because he was trying.
The only thing that I didn't love about the book was the first 50 pages were a drag for me as they set up the temperament of the school. It felt like setup instead of a seamless story.
Overall, I highly recommend this book for teenage girls to see that just because something is tradition doesn't mean you just have to go with it. "Moxie girls fight back."
Parental content warning for: sexual abuse, mild language, and discussions of sex.
Have you read Moxie? What did you think? Let me know in the comments.
Much Love,
Tasha
Pick up your copy of Moxie on:
FOLLOW ME ON SOCIAL MEDIA:
Twitter: @amaysn1
Instagram: @tashalikesbooks
Goodreads: AmaysnReads