Hey y'all! This Saturday, March 3rd, is the Readathon by Zoe hosted by Read by Zoe from Youtube (link to her announcement video). I am really going to try to participate in this readathon over the weekend because I don't have a whole lot to do. This will be an excellent opportunity for me to get through some smaller novellas that I want to read for the Booktube SFF Awards and also to read a middle grade for Middle Grade March. I don't think I will be doing a monthly TBR because I usually give a weekly one every week. Anyway, here are the books that I would like to complete or at least start over the weekend.
Every Heart a Doorway and Down Among the Sticks and Bones by Seanan McGuire – These are books 1 and 2 in the Wayward Children's series. This story follows children that come back from portal worlds and are having trouble adjusting to the real world again. They are sent to this school to help them adjust. I have heard very high praise for these books so I can't wait to read them over the readathon and then probably pick up the third one that was just released the beginning of this year.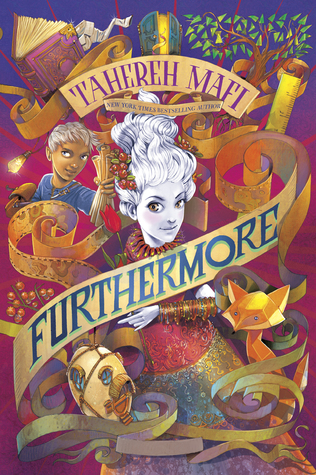 Furthermore by Tahereh Mafi – I am so excited that my library finally got this book. Furthermore is about Alice is completely colorless in a world full of color.  She embarks on an adventure to find her father and things happen. I'm so excited to pick up this middle grade that I have heard nothing but good things about.
The Heart's Invisibile Furies by John Boyne – I did not make as much progress on this book this past week so I really wanna make substantial progress in this book over the weekend. What I have read has been shocking and compelling and I am already invested in the main character.
The audiobook that I will be listening to through out the day is A Closed and Common Orbit by Becky Chambers.  This is book two in the Wayfarers series, The Long Way to a Small Angry Planet is book one. This book follows two side characters from book one and so far I'm honestly enjoying this one more than book one. So while I'm out and about with the kiddo, this is what I will be listening to.
I have been in a huge fantasy mood because my regular life has been a little mundane (which is better than stressful but a little boring). I think these will be just what I need. I hope to knock these out so that I can get back to reading my shelf next week. I have been doing okay with reading what's on my shelf but who knows.
Are you participating in the readathon? What are you planning to read? Let's chat in the comments.
FOLLOW ME ON SOCIAL MEDIA:
Twitter: @amaysn1
Instagram: @tashalikesbooks
Goodreads: AmaysnReads
Much Love,
Tasha