Hey y'all! I'm back with another weekly wrap-up and TBR. I managed to complete 5 books this past week so let's get this going.
What I Completed
An Ember in the Ashes by Sabaa Tahir – I have a full review of this series that I will link here. I enjoyed the story but the romance left something to be desired.
Unstoppable Octobia May by Sharon Flake – This is a middle grade book following Ocotobia May who lives with her aunt at a boarding house and is convinced the new boarder is a vampire. I did a full review on Goodreads which I will link here.  While I did enjoy this book, I felt like it was trying to introduce too many social issues that were happening in the 1950s which overwhelmed me so I can only imagine how this would make children feel. The audiobook narrator was really good for this one. It's the same narrator who did The Hate U Give by Angie Thomas.
Sing, Unburied, Sing by Jesmyn Ward – This was my book club/buddy read pick for this month. I plan on doing a full review for this book that will be up later this week. I didn't love this as much as Salvage the Bones but the writing was just as fantastic. I will talk more of it in my review.
Every Heart a Doorway by Seanan McGuire – This was only the book that I completed for the #readathonbyzoe on Saturday.  This story is about children who return from portal fantasies and have trouble adjusting to the "real" world. These children are then sent to this home to help them cope with having been to these other worlds. We follow a new girl who is sent to this school by her parents while she adjust and while some of the children are being killed off. This is a book community darling, I personally didn't love it. The writing was wonderful but the murder mystery element didn't seem necessary and I figured out the killer almost as soon as the first incident happened. I think that I will reluctantly continued because of the synopsis of the second book and I'm interested to visit the other worlds.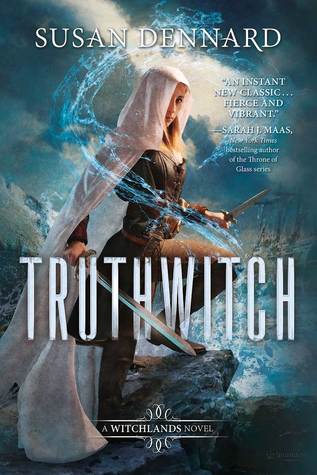 Truthwitch by Susan Dennard – I will definitely be doing a full Will I Continue? review for this one. SPOILER ALERT: The second book is in the mail and I already own Sightwitch sooooo….. Anyway, this story follow Safi and Iseult who are threadsisters. Safi is the most sought after type of witch in the Witchlands, A Truthwitch and Iseult is a Threadwitch.  Their friendship was fantastic and like I said I will be doing a full review of this series some point this week.
Currently Reading:
The Hearts Invisible Furies by John Boyne – I am still reading this book and loving how this story is unfolding. My inital instinct is to fly through this monster of a book but I want to take time with this book so I am only reading about 50-100 pages a day.
What I Plan to Read:
The Master and Margarita by Mikhail Bulgakov – This was one of TBR jar picks for March. It's kind of perfect because I have been craving a classic and this will be my first Russian classic. This story is a satric look at Russia in the 1930s.  I don't know much about it, but I have read reviews of people who absolutely loved it.
Furthermore by Tahereh Mafi – I put this on my readathon TBR but didn't even get to pick this up because I was a little behind on reading some other stuff I needed to catch up on. Anyway, I'm excited and this is a middle grade so it shouldn't take too long.
The City of Brass by S.A. Chakraborty – This is an adult fantasy novel that takes place in Cairo and involves genies.  I don't really want to know much more about the story but this sounds like a fantasy that I can get behind. I really just want to read all the fantasies at the moment.
Audiobooks:
A Closed and Common Orbit by Becky Chambers – I am currently still listening to this and enjoying it more than A Long Way to a Small Angry Planet. I am enjoying getting the backstory for Pepper and how the other character is adjusting to her new body.
Still Life by Louise Penny – This will be my next audiobook that I will pick up. This is book one in the Armand Gamache series.  It's March mystery madness in the book world so this is my attempt to participate.
This is everything that I read and what I plan to read this next week.  What are you planning to read? What have you recently finished? Have you read any of these books? Let's chat in the comments.
FOLLOW ME ON SOCIAL MEDIA:
Twitter: @amaysn1
Instagram: @tashalikesbooks
Goodreads: AmaysnReads
Much Love,
Tasha