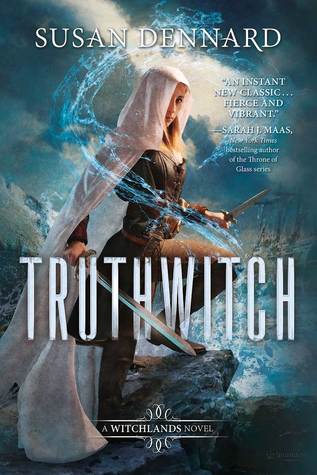 Hey y'all! I'm back with another Will I Continue? Today we are talking about the Witchland series by Susan Dennard. The there are currently two novels and a novella out in the series: Truthwitch, Windwitch, and Sightwitch. Bloodwitch is forthcoming but there is no release date yet. Here are my thoughts on book one Truthwitch and at the end we will see if I plan on continuing.
Truthwitch is the story of Sofiya, a truthwitch, and Iseult, a threadwitch.  These two are best friends and threadsisters who get up to a lot in this first installment. At the beginning of the book one of their plans goes wrong and they must flee the city.
The world of the Witchlands is very complex but not hard to follow. The different types of witches is well explained so the magic doesn't seem like it comes out of nowhere. The areas that the main characters actually visited was well explained in this book and the other areas that weren't explored were at least introduced. There was a nice balance between action and character development, although you could feel a little was being held back for future books. And there is a hate to love romance in the book, which is one of my favorites and it didn't domiante the story.
I didn't have a lot of cons with the book. One is that there was a little bit of info dumping that didn't bother me too much because like I said the world was complex. Also, there were characters that seemed important but that I didn't feel like I knew. This could have to do with future books coming out in the series.
So…Will I Continue? Absolutely. I already own Windwitch and Sightwitch (which is signed, btw).
Overall, I would recommend this to someone who is sick of the typical chosen one YA fantasy.  Although there are "chosen one" elements in this book, it's feels new and different.  I'm excited to see where the story goes and getting to know the characters so much more.
Have you read Truthwitch? What are your thoughts? Are you continuing the series? Let's chat in the comments.
FOLLOW ME ON SOCIAL MEDIA:
Twitter: @amaysn1
Instagram: @tashalikesbooks
Goodreads: AmaysnReads
Much Love,
Tasha