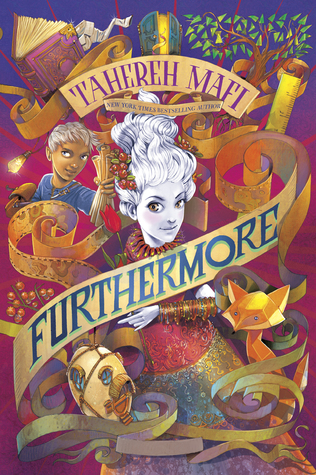 Alice lives in a world full of color, but she is completely colorless. When an old classmate, Oliver, presents Alice with an offer she can't refuse, she goes on adventure to Furthermore. Furthermore is a town where frivilous use of magic is encouraged and there is danger lurking underneath the whimsical surface.
Alice is a character that grows on you.  She is definitely flawed and complex which is something that I appreciate in a middle grade. Her companion Oliver was such a great character too. The growth of their friendship as they navigate Furthermore was so heartwarming. Tahereh Mafi's writing style is beautiful as everyone says it is. The world was descriptive and I loved the sprinkles of sarcasm. I really felt as if I was reading a fairy tale. The morals were never heavy handed, but were apparent in the story. There are so many quotable lines, some poignant and some hilarious.
My major complaint was the abruptness of the ending. I felt we built up to something exciting and it was over in a couple of pages. I would of liked the issue to be resolved in a bit more dramatic manner and not by happenstance. While I as an adult had this complaint, I don't think this would effect the enjoyment for the intended audience.
Overall, I highly recommend this book. It's fast, funny, and beautifully written. This would make a great read aloud book for bedtime. I got this from the library but I will be adding it to our personal collection soon.
Have you read Furthermore? Did you enjoy it? Let's chat in the comments.
FOLLOW ME ON SOCIAL MEDIA:
Twitter: @amaysn1
Instagram: @tashalikesbooks
Goodreads: AmaysnReads
Much Love,
Tasha