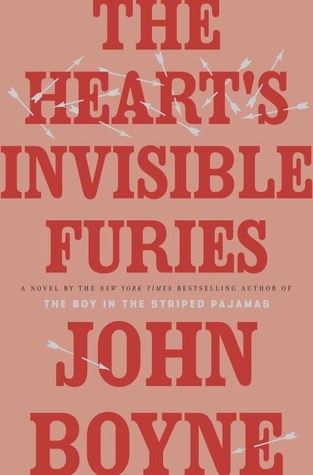 Cyril Avery is not a real Avery or at least that's what his adoptive parents tell him. And he never will be. But if he isn't a real Avery, then who is he?
Born out of wedlock to a teenage girl cast out from her rural Irish community and adopted by a well-to-do if eccentric Dublin couple via the intervention of a hunchbacked Redemptorist nun, Cyril is adrift in the world, anchored only tenuously by his heartfelt friendship with the infinitely more glamorous and dangerous Julian Woodbead.
At the mercy of fortune and coincidence, he will spend a lifetime coming to know himself and where he came from – and over his three score years and ten, will struggle to discover an identity, a home, a country and much more.
In this, Boyne's most transcendent work to date, we are shown the story of Ireland from the 1940s to today through the eyes of one ordinary man. The Heart's Invisible Furies is a novel to make you laugh and cry while reminding us all of the redemptive power of the human spirit. (Goodreads synopsis)
The pure scope of this book is something that will intimidate a lot of readers. We follow Cyril Avery from his birth well into his 60's. He's born at the end of World War II and the book ends in 2015. The book opens with a bang.   A scene that will absolutely have you hooked from the beginning. Cyril is such a fantastic character. I didn't always agree with his decision, but I did understand why he made most of his decisions. This writing in this book is top-notch. I have never read a John Boyne book prior to reading this. There's a simplicity to the writing that got to the point. Boyne told this story beautifully and in such an enthralling way. The succinctness is something that I really enjoyed, which you will know if you have followed me for any amount of time. His ability to craft characters that you absolutely care about, and in one situation, hate. Boyne doesn't have to give a lot of backstory for you to understand the character. I loved how with each 7 year jump, you were left with a cliffhanger, but the events in the gap were revealed in a very non-expository way.
My biggest complaint is the sheer number of coincidences that occur throughout the story. There comes a point where you have to suspend disbelief and go with it. Once it was clear that coincidences were going to happen, it did hinder the surprise of a lot of the "big reveals." I found myself enjoying the build-up more than the reveal.  Surprisingly, this did not really take away much from my enjoyment of the book. This was probably in large part due to the characters.
Was this big book worth it?……. YES!!
I highly recommend this book for everyone.  Don't let the length of the book turn you off, and don't think that the writing will be too "literary" for your taste. I absolutely believe that just about anyone can fall in love with Cyril Avery as much as I did and be totally invested in his story. I definitely see myself re-reading this book in the future.
Trigger Warning: offensive language, death, violence against homosexuals
Have you read The Heart's Invisible Furies? Will you be adding it to your TBR? Let's chat in the comments.
FOLLOW ME ON SOCIAL MEDIA (I'm almost to 500 on Instagram!):
Twitter: @amaysn1
Instagram: @tashalikesbooks
Goodreads: AmaysnReads
Much Love,
Tasha