Hey y'all! It's the end of March and while I was making plans for April, I thought I would share my TBR for the month. I will continue to do weekly TBRs but there are so many books that I want to get done this month.  I will be attending the Dallas Book Festival, Dallas Comic Con, and the North Texas Teen Book Festival. I'm also still wanting to read a few more books off the Women's Prize for Fiction books and I have a lot of ARCs (advanced reader copies) that I need to get through this month. It's not overwhelming, I'm fine (I think).
Books by authors who will be at the North Texas Teen Book Festival
Emmy & Oliver by Robin Benway – This is a YA contemporary that follows two best friends who are separated due to circumstances.  This seems to be a YA contemporary with something more. I'm not sure that it's a straight up romance, but I'm currently listening to Far From the Tree by this author and I'm loving the writing style.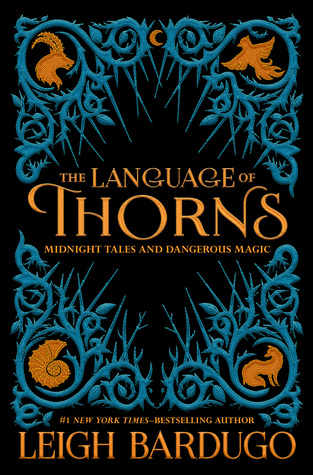 The Language of Thorns by Leigh Bardugo – This is a collection of fairy tales that would be told in the Grishaverse. I have loved everything I have read by Leigh Bardugo and I don't expect this to be an exception. I may end up reading this before April but I'm putting it on here. So excited to meet her.
The Demon King by Cinda Williams Chima – This is the first book in Chima's Seven Realms series. I have heard incredible things about all of her series and I can't wait to finally start it although I don't really know what it's about. The festival is giving me the push I need to get started.
Caraval by Stephanie Garber – This is a very popular book YA book that has had mixed reviews. It's about two sisters who live in a terrible household when they are invited to the mysterious Caraval. The runaway to Caraval but when one of the sisters gets kidnapped into the game, the other sister must do what she takes to get her sister back. This is the first book in a duology or trilogy, I'm not sure, but the second book comes out in a couple of months. I'm interested to see what I think about this book.
We Are the Ants by Shaun David Hutchinson – This is a YA contemporary that follows a boy who has recently lost his boyfriend to suicide. While he's coping with this he is being abducted by aliens and dealing with family life. This is suppose to be hard hitting and excellently written. I'm excited to finally read something written by Shaun David Hutchinson.
Furyborn by Claire Legrand – This is a new epic YA fantasy that has been getting some buzz.  The book will be released in May and I have an e-ARC of it on my kindle. I have heard pretty good things about it and I have been in a fantasy mood.
Frankie by Shivaun Plozza – This is an Australian YA contemporary that follows a girl with anger issues. One day a guy shows up claiming to be her half brother and things happen. I haven't heard much about this book but it sounds like a contemporary with something more that I enjoy.
Women's Prize for Fiction Long List
Elenor Oliphant is Completely Fine by Gail Honeyman – I have talked about this before, so I won't go into detail again. But this is one of the long list that I really want to read.
Elmet by Fiona Mozley – This is a story about a two kids who live on the cusp of civilization with "Daddy." This is suppose to be well written and thought provoking, which is expected from literary prizes. We will see.
Other Books on My Radar
This Will Be My Undoing by Morgan Jerkins – I just got this in the mail and I'm so excited to read it. This is an essay collection talking about Jerkins' experience being black, female, and a feminist. It sounds like something that I can relate to.
My Favorite Thing is Monsters, Volume 1 by Emil Ferris – This is a huge graphic novel that's a murder mystery told through the perspective of a 10 year old girl, who is writing in her notebook. This is definitely an adult graphic novel though. It's gory and gruesome and sounds AWESOME!
Kings of the Wyld by Nicolas Eames – This is the first book in an adult fantasy series that follows a band of brothers who are a little outside of their prime. This sounds hilarious and the reviews have been very favorable.
These are the 12 books that I hope to get to in April. Yes this is ambitious and I probably will not get to all of them or I will end up reading something else (we know me). I can't wait for all of the fun things that I have planned and can't wait to talk about them with y'all.
What are you planning on reading in April? Are you reading any of these in the month of April? Let's chat in the comments.
FOLLOW ME ON SOCIAL MEDIA!
Twitter: @amaysn1
Instagram: @tashalikesbooks
Goodreads: AmaysnReads
Much Love,
Tasha