Hey y'all! Long time no see. I have been feeling a little blah over the past couple of weeks but I'm at the end of it. Anyway, I thought I would go over everything I've been reading since my last update and what I plan on reading soon. Let's see:
What I read:
Everless by Sara Holland – I listened to this on audiobook and the narration was good. The story, however, was boring and I just was not feeling it at all. I did not understand the time/currency system and it did not seem it was explained. Also, the characters were flat and I just did not care about them. When something major happened at the end, I just didn't care and I can clearly see where the second book is headed. I will not be continuing this series.
The Poet X by Elizabeth Acevedo – I LOVED this book. This story is written in verse and has to do with a teenage girl who is trying to live up to her familial expectations and what she wants for herself. I listened to this on audio and it's narrated by the author.  This is definitely the way to consume this book. I felt all of her emotions and everything she was trying to convey. Full review coming.
Gemina by Amie Kaufman and Jay Kristoff – This is the second book in the Illuminae files and I loved this more than I did the first one. The action was awesome and in the beginning I felt some of the characters were grating but they grew on me and I felt myself rooting for them. I have the third book in the series from the library, so I will be doing a full series review once I finish.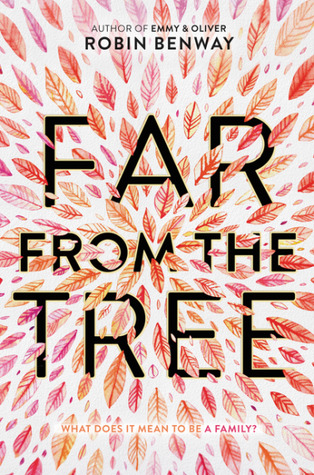 Far From the Tree by Robin Benway – This is another book that I absolutely LOVED! This story follows three siblings whose mother gave them up for adoption and they were separated.  They find each other through a series of events and it's so great. This is another one that I will be giving a full review.
The Belles by Dhonielle Clayton – The Belles is the story about a society where people are born grayscale and the only way to be made beautiful is by a Belle. Belles are people who are born full color and have the ability to make people's outer appearance and even change their temperament. We follow Camilla who is a newly presented Belle and wants nothing more than to be the queen's favorite. From there is political intrigue, subtle talks about slavery, reflections on the price of beauty. While I enjoyed this book and will probably continue the series, I didn't absolutely love it. I will be doing a full review.
The Cruel Prince by Holly Black – This is another hyped book that I read. We follow Jude and her sisters whose parents are killed at the beginning of the book and they are raised in Fae.  Jude wants nothing more than to be a part of the fairy royalty even though she is a human. There will be a "Will I Continue?" post for this one coming at the end of the week.
Lucky in Love by Kasie West – I listened to this on audio, which I don't recommend, and enjoyed the story for what it was. This story is about Madeline who has her entire life planned out, do well in school, go to college, and be successful. Her family life is far from perfect but she has a plan for her life. On her 18th birthday, she buys a lottery ticket on a whim and wins. The story goes from there. This is a really cute contemporary where the romance is secondary to the evaluation of what would you do if you won the lottery. It looks at how Madeline is treated and how she copes with her new riches. It was cute, nothing life changing but I enjoyed the story, not the audiobook.
What I'm Currently Reading
The Language of Thorns by Leigh Bardugo – This is a collection of 6 fairy tales set in the Leigh Bardugo's Grishaverse.  They are the fairy tales that the children growing up in this fantasy world would be read growing up. I have read four stories and will probably read the last two tonight. I thoroughly enjoy Bardugo's writing and it's nice to be reading it again. Plus, the physical book is gorgeous! Within each story, there are illustrations that grow with each turn of the page and each story ends with a two page illustration. I am so stoked to meet her at the North Texas Teen Book Festival.
The Master and Margarita by Mikhail Bulgakov – This is a Russian Classic set in the 1930's about the devil coming to Moscow and everything that comes with that. The story is enthralling but it is taking me a while because a lot of the names are similar and it's a classic.  I will probably nurse this book for the rest of the month, reading a chapter or two every night.
What I Plan to Read 
Obsidio by Amie Kaufman and Jay Kristoff – Book three in the Illuminae Files.
Emmy & Oliver by Robin Benway – After reading Far From the Tree I gotta read another Robin Benway soon. She is on my definite list of authors to meet.
Shadow and Bone by Leigh Bardugo – I picked this up on audio and I hope to start the book tomorrow. I need more Bardugo in my life. This is book one of her Grisha trilogy and I hope that I will be able to read a good portion of the trilogy this month. I kind of want to slow down because I don't know when her next book comes out and I don't want to run out of books to read by her.
This Will Be My Undoing by Morgan Jerkins – This is an essay collection that evaluates being a black feminist in a white America. It's suppose to be really good and interesting. I need some adult literature in my life and I think this will help my slumpy feeling.
I am back and ready to put out a lot of content for y'all. What have you recently been reading? What have you recently finished? Let's chat in the comments.
THANK YOU FOR 500 FOLLOWS ON INSTAGRAM!! I got a new camera so these pictures are about to be poppin'!
Follow me on Social Media:
Twitter: @amaysn1
Instagram: @tashalikesbooks
Goodreads: AmaysnReads
Much Love and Thank You,
Tasha