Hey y'all! I'm here today to do a review for two Robin Benway way books that I recently read. Robin Benway is a contemporary author whose contemporaries have a little more to them.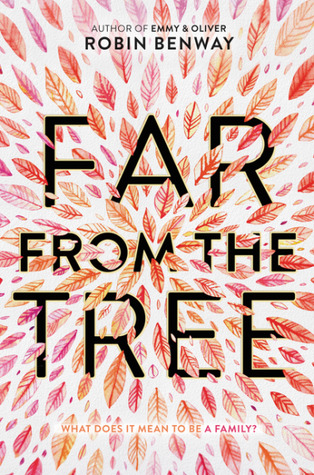 Far From the Tree is a multiple perspective novel about three siblings. The two girls were adopted when they were babies and the boy has been in the foster system his entire life. One of the girls ends up pregnant and gives her baby up for adoption.  This starts a chain of events for the three siblings to reconnect.
I absolutely loved this story.  Benway has a way of writing a story and really getting you inside the heads of the characters and you feel exactly what they feel. There was never one point of view that I wanted to read more than the other. I never once felt manipulated by the author to feel a certain way. Grace, Maya, and Joaquin were some of the best and realistic characters that I have ever read. The story tackles not only the issue of adoption and the foster system and the effects of going through that effects you in the long run.  It also tackles issue of race and who actually get adopted because Joaquin is mixed race. There was never a point where I was reading and I felt that it was cheesy or made me roll my eyes.
The one negative is that I felt the one of the girl's struggle seemed a little more superficial than the others but it did not detract from my enjoyment of the book.
I highly recommend this book and it literally made me cry tears of joy and sadness because I loved and felt for these characters so much. It was a good balance between character development and plot. I can see why this one the National Book Award.
Parental warning for some mild language.
Next, I want to talk about Emmy & Oliver.  This is story is about a friendship that abruptly ends when Emmy and Oliver are 7 years would because Oliver's dad kidnaps him. The story picks up 10 years later when Oliver is found and finally returns home.
This was a hard to read at times for me because as a parent, I could not imagine my child being taken away and never heard from again. However, this was compulsively readable. The story tackles the effect of children having to deal with a very adult thing at a young age. It talks about how other parents react and treat their children as they are trying to protect their kids from something horrible happening to them. It is also a book of friendship and love. How some things often seem meant to be no matter what happens. Lastly, it deals with how is a kid suppose to deal with the fact of being kidnapped by a parent and while you know what they did was bad, you cannot find it in your heart to hate or even dislike them because they never harmed you and they are your parent.
One of my complaints with this book is that at times I felt that Emmy's mannerisms were a little naive and I felt the love story could of used a little more time to develop. It got intense a little fast for me. I wouldn't say it was insta-love but it was really close.
Even with that, I also highly recommend this book. This could easily be read in one sitting and you will be entertained throughout the entire book.
Needless to say, Robin Benway has solidified herself as one of my  favorite contemporary authors. Her stories are heartbreaking and hopeful. They really give you something to think about and mull over as you're reading them.
Parental warning for mild language and some mild sexual content.
Have you read a Robin Benway novel? What are your thoughts on either or both of these books? Let's chat in the comments.
FOLLOW ME ON SOCIAL MEDIA
Twitter: @amaysn1
Instagram: @tashalikesbooks
Goodreads: AmaysnReads
Much Love,
Tasha