Hey y'all! Can we talk about Mays with his cosplay sword? LOL! Anyway, I've decided to do a read-a-thon!. The One Readathon to Rule Them All is a fantasy readathon created by Don't Have a Degree in Reading on YouTube (find the announcement video here).  The readathon runs from Sunday, April 29 and ends on May 12.  That's two weeks! there are eight challenges for the readathon and you can double, triple, quadruple, etc. the challenges. This is not a strict readathon. I have six books on my TBR to cover all 8 challenges. I have been wanting to read more adult novels and I think this will be a good transition for me to get back into adult books because most of my TBR are adult fantasies. Without further ado let me give you the challenges and what I plan to read for them.
Challenge 1 & 2: Read a fantasy book written by a Person of Color and Read a fantasy book with a Person of Color main character 
Children of Blood and Bone by Tomi Adeyemi – I don't think I need to tell you what this is about because it's everywhere. I own the physical copy and the audiobook for this one. I'm so excited to read this one and I hope that I will enjoy it.
Challenge 3: Read a fantasy book set in a non-European location
The Grace of Kings by Ken Liu – This is book one in the Dandelion Dynasty series and it's suppose to be great. It's a chuncker but I have heard that the world is completely immersive and that Ken Liu is an amazing writer. I am pumped!
Challenge 4: Read a fantasy book under 300 pages
Equal Rites by Terry Pratchett – I have been meaning to start my journey into Discworld and this is the first book in the Witches sub-series and the third in publication order. This readathon is giving me the push that I need to enter the Discworld and read through the series, over the years of course.
Challenge 5: Read a fantasy book written by a non-English speaking author 
The Master and Margarita by Mikhail Bulgakov – I started reading this book a couple of weeks ago but I put it down because it was a little dense for my mental state. I was enjoying the story but I couldn't wrap my mind around it at the time. I'm about 60 pages in but I feel like I'm ready to dive back into this book.
Challenge 6 & 7: Read a fantasy book that's a standalone and Read a fantasy book with LGBTQIA+ representation
The Song of Achilles by Madeline Miller – This a re-telling of the Greek myth of Patroclus and his relationship with Achilles. This is another one where I own a kindle copy and the audiobook is on Scribd.
Challenge 8: Read a fantasy book over 1000 pages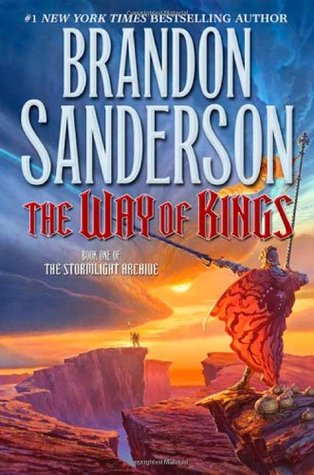 The Way of Kings by Brandon Sanderson – This is book one in the Stormlight Archives and I can't wait to read my first Sanderson. I feel like I can't call myself a fantasy reader without attempting to read at least one Sanderson.
These are the books that I plan to work my way through over the two weeks of the readathon. I will be updating my progress on Goodreads and on the blog throughout the two weeks (I have something special planned for May).
Anyway, are you participating in this readathon? What are you reading? Let's chat in the comments.
FOLLOW ME ON SOCIAL MEDIA
Twitter: @amaysn1
Instagram: @tashalikesbooks
Goodreads: AmaysnReads
Much Love,
Tasha