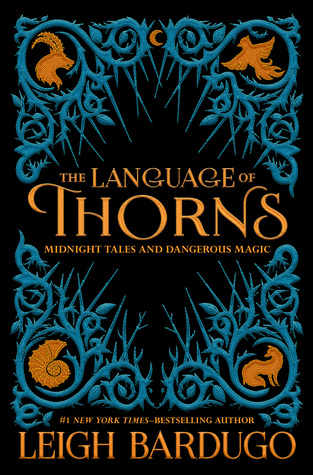 Love speaks in flowers. Truth requires thorns.
Travel to a world of dark bargains struck by moonlight, of haunted towns and hungry woods, of talking beasts and gingerbread golems, where a young mermaid's voice can summon deadly storms and where a river might do a lovestruck boy's bidding but only for a terrible price.
Inspired by myth, fairy tale, and folklore, #1 New York Times–bestselling author Leigh Bardugo has crafted a deliciously atmospheric collection of short stories filled with betrayals, revenge, sacrifice, and love.
Perfect for new readers and dedicated fans, these tales will transport you to lands both familiar and strange—to a fully realized world of dangerous magic that millions have visited through the novels of the Grishaverse.
This collection of six stories includes three brand-new tales, all of them lavishly illustrated with art that changes with each turn of the page, culminating in six stunning full-spread illustrations as rich in detail as the stories themselves. (Goodreads)
This a collection of fairy tales set in the Grishaverse. Overall, I enjoyed most of the stories but there were times that I felt some of them were meandering. Bardugo excels at the complete story arc but sometimes her beginnings are extremely slow. These stories were no different. The beginnings of the stories were a little hard to get into but as the story unfolds I became more invested. I very much enjoyed the longer stories in the collection because even with the pacing being slow, I was able to fully imagine the locations and get to know the characters. The stories that I rated lower were the shorter ones where the endings seemed more abrupt. This is usually how I feel with short stories and novellas in general.
The illustrations in these stories definitely add a great element to the unfolding of these fairy tales. The subtly of the growing illustration was a nice  and did not distract from the story, the full page spreads were gorgeous and the matching text color was a nice touch.
I would recommend this book to people who are already invested in the Grishaverse. If you are not, I think that you will enjoy the story but I don't think that you will care.
Have you read these dark fairy tales? What did you think? Let's chat in the comments.
FOLLOW ME ON SOCIAL MEDIA
Twitter: @amaysn1
Instagram: @tashalikesbooks
Goodreads: AmaysnReads
Much Love,
Tasha