Hey y'all! Today I want to do a full review of the Illuminae Files series. I know it's shocking that I actually completed a series.
Illuminae ended up being a fun ride but it was slow going in the beginning. It took me about 150 pages for me to get into the story. The formatting is told in pictures, case files, transcripts, and chat logs. This was a very interesting way to consume a story, so it took me a minute to not only get used to the style but to actually care. It turns out that it's kind of like a look back on what happened and over the course of the three books we get to see the resolution. This book follows Kady and Ezra who are escaping an unprovoked attack on their planet. Kady is a 17 year old computer whiz and Ezra is a jock who used to date Kady. I enjoyed this book but I can't say that I was completely obsessed with it. There's action, adventure, agnsty romance, and an insane AI. There were plot twist that I didn't see coming and I was anxious to get to the end of the book.
Gemina is a continuation of the story but it follows Nik and Haley. Haley is the daughter of the commander and Nik is a gang member with a checkered past. When their ship is taken over it is up to them to save as many people as they can as the command staff is unable to for various reasons. The storyline in this book was my favorite. I found that enjoyed Nik and Haley's story  a lot more than Ezra and Kady's. I felt the stakes were higher in this book and the science was a lot cooler in this one. This book is told in the same format as the first one and we get a little more political intrigue in this book. Tehre were points that I had to suspend disbelief but I usually do that while reading sci-fi anyway.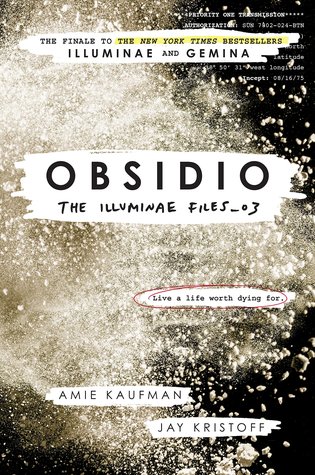 Obsidio, the conclusion of the triology, was pretty good but I felt like it didn't push the limits. I didn't really believe that any of the main characters were in any real danger, an issue I find with a lot of finales to trilogies or series. There were some things that happened that caught me off guard but not to the main characters. Also I don't think, after 3 books, I fully understood the motivations of the evil corporation. Lastly, I wasn't invested in the romance in this book. I felt like the romance didn't add anything new to the story like it did in the other books.  This was a good conclusion and wrapped up most things very nicely.
Overall, I did really enjoy this trilogy and I would definitely recommend this for people who are curious about sci-fi but don't want to read "hard" sci-fi.  It's a fun ride and the science will not go over your head.
What are your thoughts on the Illuminae Files? Have you finished it yet. Let's chat in the comments.
FOLLOW ME ON SOCIAL MEDIA
Twitter: @amaysn1
Instagram: @tashalikesbooks
Goodreads: AmaysnReads
Much Love,
Tasha