Hey y'all! I don't usually do most anticipated releases post but May has so many books that I definitely had to create a post with everything that I'm excited to be released! Some of these May already be out because it is the 2nd of May.
Lost in the Jungle (Jack and the Geniuses #3) by Bill Nye and Gregory Mone – This is the third book in the Jack in the Geniuses series where we follow Jack, Ava, and Matt on a new adventure. I have absolutely loved the other two book and I can't wait to pick this one up. It's a middle grade full of science, adventure, and a regular kid doing extraordinary things. Click the link for my reviews for the first two: At the Bottom of the World and In the Deep Blue Sea.
A Court of Frost and Starlight by Sarah J. Maas – Release date: May 1, 2018. This is the bridge novella to the ACOTAR series before the other books come out. I don't know what to expect, but I've invested so much time on this series, I'm pretty sure I'm going to see if to completion…probably.
Only Humans by Sylvain Nueval (Themis Files #3) – This is the completing book to the trilogy. The first book was so good and I actually didn't mind the interview format. I have the second one on audiobook and I'm currently listening to it. I'm happy I won't have to wait long to read the conclusion.
Artificial Condition (Murderbot #2) by Martha Wells – This is the highly anticipated follow up to All Systems Red which I loved. Murderbot is such an interesting character and the way the first one ended has me delighted to read the second one immediately.
Airports, Exes, and Other Things I'm Over by Shani Petroff – I read My New Crush Gave to Me in December and loved it. When I saw that Shani Petroff was releasing another book, I knew that I definitely wanted to read this one.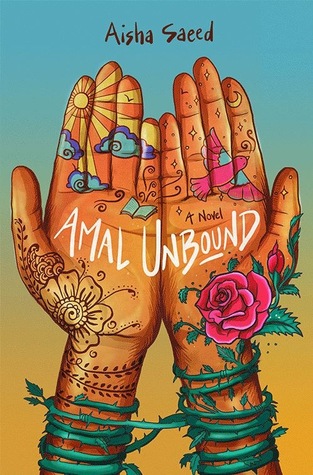 Amal Unbound by Aisha Saeed – This book is a middle grade about a girl in Pakistan who dreams of becoming a teacher. She has to put her dreams on hold to become a slave for the wealthy landlord to payoff her family's debt. It's suppose to be a hopeful story about showing strength and helping family. I'm hoping my library gets a copy of this one.
There are many more but these are the ones that are on my radar currently. There are so many more because May is a huge release month.
What are some books that you are anticipating for May? Let's chat in the comments.
FOLLOW ME ON SOCIAL MEDIA
Twitter: @amaysn1
Instagram: @tashalikesbooks
Goodreads: AmaysnReads
Much Love,
Tasha