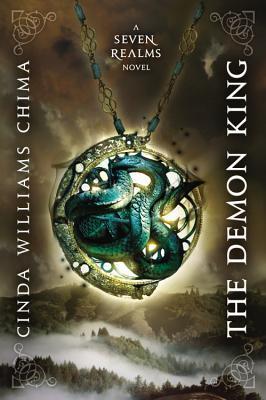 Times are hard in the mountain city of Fellsmarch. Reformed thief Han Alister will do almost anything to eke out a living for his family. The only thing of value he has is something he can't sell—the thick silver cuffs he's worn since birth. They're clearly magicked—as he grows, they grow, and he's never been able to get them off.
One day, Han and his clan friend, Dancer, confront three young wizards setting fire to the sacred mountain of Hanalea. Han takes an amulet from Micah Bayar, son of the High Wizard, to keep him from using it against them. Soon Han learns that the amulet has an evil history—it once belonged to the Demon King, the wizard who nearly destroyed the world a millennium ago. With a magical piece that powerful at stake, Han knows that the Bayars will stop at nothing to get it back.
Meanwhile, Raisa ana'Marianna, princess heir of the Fells, has her own battles to fight. She's just returned to court after three years of freedom in the mountains—riding, hunting, and working the famous clan markets. Raisa wants to be more than an ornament in a glittering cage. She aspires to be like Hanalea—the legendary warrior queen who killed the Demon King and saved the world. But her mother has other plans for her… (Goodreads synopsis)
Hey y'all! When I finished The Demon King by Cinda Williams Chima (Seven Realms Series #1), all I could think was "This is a darn good book." I didn't know what to expect when I started reading, but when I got through the first chapter I immediately knew I was going to love it. Hans was such a deep character, with good intentions that were not always apparent.  Princess Raisa was such a strong character who also recognized her limitations. I love it when female characters aren't constantly talking about how bad ass they are but actually show it through their actions. Raisa was intelligent and strong. The world-building and magic system were explained thoroughly and not just in an exposition. She weaved these things into the story. I'm excited to see other parts of the realm because there was so much setup for us to really get to see the other parts.
The plot of the story was standard young adult fantasy with a focus on political intrigue. Even with this, Chima's writing made the story so interesting. I was completely engaged and flew through this book. However, there was a limitation with the plot being so standard, I saw one of the big plot twist coming  a mile away. This was disappointing but did not take away from the overall enjoyment of the story.
The Demon King would be an excellent transition book from middle grade to young adult/teen. The subject matter wasn't too mature, the friendships were the focus and the romance was light. The adventure was engaging and the characters are likable and complex. The world is vast and well explained. The magic system is intriguing. The politics had me hooked.
So, Will I Continue?…… Yes! I just ordered the second book and have it in my possession. I ordered it almost immediately after I finished the first book. While it wasn't a huge cliffhanger at the end, I was anxious to see what happened next. I have a feeling that I will be going through all of the series that Chima has written in this world.
Have you read the Seven Realms series? What did you think? Let's chat in the comments. 
FOLLOW ME ON SOCIAL MEDIA
Twitter: @amaysn1
Instagram: @tashalikesbooks
Goodreads: AmaysnReads
Much Love,
Tasha