Hey y'all! As you may know, I listen to a lot of audio books. Working full time, I can't just sit and read all day (which is the dream, but hey what can you do). I listen to audio books whenever I can: in the car, at my desk, at lunch, etc. I'm going to talk about just what I thought about the narrator for these audio books, not the actual story. I will be linking the Goodreads pages for each book if you want to know a synopsis.  All of these books weren't 5 star reads, but these are the audio books that stuck out to me.
Young Jane Young by Gabrielle Zevin (Narrated by Karen White) – This book sticks out to me because I thought that narrator was engaging in creating the tension in the book and the humor. Her voice acting was excellent and the voices were different enough that I knew exactly who was talking while she was reading.
An Ember in the Ashes by Sabaa Tahir (Narrated by Fiona Hardingham and Steve West) – I loved this narration. The book is written in a dual narrative, hence the dual narration. I thought both voice actors were fantastic. The plot and characters of the book are already fantastic, but the audio definitely amp'd up my enjoyment of this story.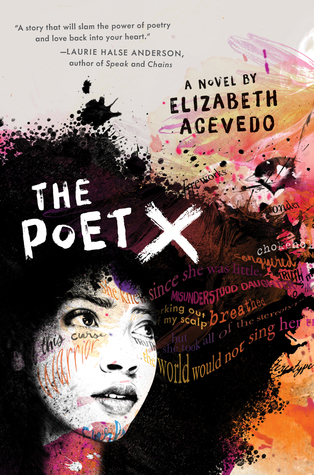 The Poet X by Elizabeth Acevedo (Narrated by the author) – This book begs to be listened to on audio and it did not disappoint. The story is told in verse and has to do with slam poetry. The author adds all the inflection that you wouldn't get with reading the book physically only and the last poem she actually reads it 2 different ways so that you can get the alternate meaning in the poem. This may be my favorite audio book of the year so far.
The Song of Achilles by Madeline Miller (Narrated by Frazer Douglas) – I listened to this and read it along with my ebook and I really enjoyed this experience. The narrator was able to convey the love and longing between the two main characters. This was an absolutely excellent audio book.
The Guernsey Literary and Potato Peel Pie Society by Annie Barrows and Mary Ann Shaffer (Narrated by Paul Boehmer, Susan Duerden, Rosalyn Landor, John Lee, and Juliet Mills) – This is one of the most recent audio books that I listened to and the full cast really added to the cast to the quirky sweetness of this epistolary novel. I highly recommend this audio book.
River of Teeth by Sarah Gailey (Narrated by Peter Berkrot) – This story is an alternate history western. Being a southerner myself, I am very particular about my southern accents in audio narration. This one did not disappoint. I thought that this was an absolutely excellent audio book. It's about 4 hours long, so it's a short one too.
These are my favorite audiobooks so far this year.
What is your favorite audio listen this year? Are you an audio listener? Let's chat in the comments. 
Much Love,
Tasha
Follow me on social media to see what I'm currently reading or listening to:
Twitter: @amaysn1
Instagram: @tashalikesbooks
Goodreads: AmaysnReads