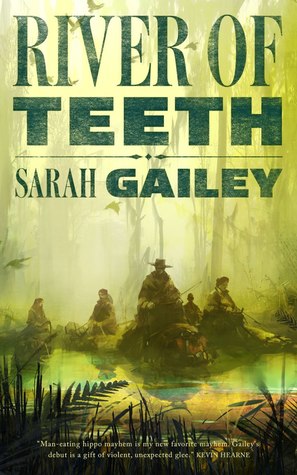 In the early 20th Century, the United States government concocted a plan to import hippopotamuses into the marshlands of Louisiana to be bred and slaughtered as an alternative meat source. This is true.
Other true things about hippos: they are savage, they are fast, and their jaws can snap a man in two.
This was a terrible plan.
Contained within this volume is an 1890s America that might have been: a bayou overrun by feral hippos and mercenary hippo wranglers from around the globe. It is the story of Winslow Houndstooth and his crew. It is the story of their fortunes. It is the story of his revenge. (Goodreads synopsis)
I loved this novella. I was engaged from the very beginning of the story when Winslow Houndstooth was introduced at the bar. From there I was taken on a western adventure involving hippos. The entire premise of this book sounds completely absurd, but in Gailey's hands you will be completely invested. The writing is succinct but also descriptive. You will love these characters to death. They are a diverse and snarky, but also very human. These are the people that you will root for in a movie or hell in real life even. She really went there in the storytelling and the pacing was phenomenal.
If you are looking for a short, engaging story with kick ass characters and actions, I highly recommend this novella.
Much Love,
Tasha
Follow me on social media to see what I'm currently reading:
Twitter: @amaysn1
Instagram: @tashalikesbooks
Goodreads: AmaysnReads