Hey y'all! It's Monday so it's time for another wrap-up and weekly TBR. I had a successful reading week last week even though I did not read seven books for 7 in 7 it really pushed me to get some things crossed off my TBR list that actually were a priority. Concurrently with 7 in 7, Dewey's Reverse Readathon started Friday night and went through Saturday evening. I really enjoyed this readathon in this format because it's easier for me to stay up than to wake up early. It's weird, I know. But I was able to read a book in it's entirety and make it to the last ten pages of another. Anyway, let's talk about all the books that I read over the course of last week.
What I Finished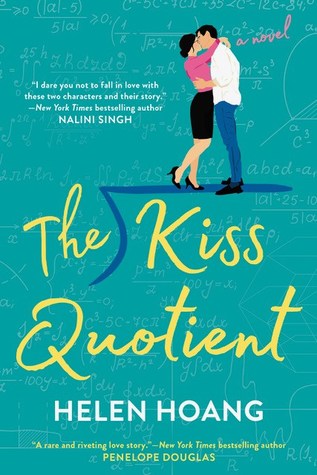 My Plain Jane by Cynthia Hand, Brodi Ashton, and Jodi Meadows – This is a Jane Eyre retelling of sorts. I listened to this on audio and it's a great way to consume this book. The snark and the sarcasm really come across in the audiobook. In the story we follow Jane Eyre and Charlotte Bronte (yes, she is an actual character). Jane Eyre can see ghost and she is being courted by a guy who wants her to join this society but Jane is only interested in becoming a governess and plus she is so plain. Read it, you'll enjoy it.
Girl Made of Stars by Ashley Herring Blake – Wow! This was such a well written story. The story follows Mara whose twin brother Owen is accused of raping her best friend Hannah. Mara is also dealing with some things of her own. I have a full review of this book that will probably be going up at some point this week. But I thought this story was through provoking and so real. It had me asking questions about what I would do in a situation like this. I believe it is worth the hype.
The Kiss Quotient by Helen Hoang – This is a romance novel that follows Stella Lane a woman on the autistic spectrum who hires an escort Michael Phan to help her learn intimacy. I really enjoyed this book, there is a fake boyfriend/girlfriend plot line that I really enjoyed and the love interest was pretty swoon-worthy.  And Stella was such a sweet character. I'm not a huge romance reader so, to me the sex scenes were pretty intense and did indeed make me blush. Overall, I do recommend this book.
Grace and Fury by Tracey Banghart – I received this book for free from Netgalley for review. My opinions are my own. This is a dystopian/fantasy book where women have no power and aren't allowed to do much. A full review for this book will be going up tomorrow, July 31 – the US release date but in short I do recommend this book. It was fast paced and plot twist were good. I did see a couple of them coming, however this book was so compulsively readable that I could not put it down.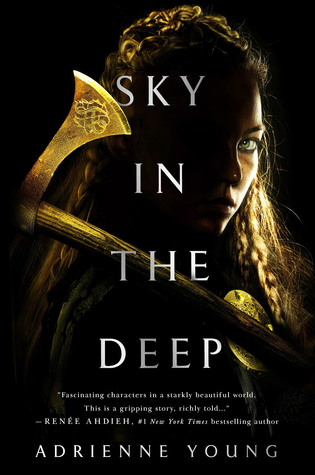 The Last Wish by Andrzej Sapkowski – This is the first book in The Witcher series based off of the video game. This is more of an interconnected short story bind-up if I'm not mistaken. Geralt, our main character, is in one location and he is retelling stories while he recovers from something that happened. I just finished this yesterday so I'm still mulling this over. There were parts that I really enjoyed and parts that I wasn't sure about. Once I collect my thought a "Will I Continue?" post will be going up.
Sky in the Deep by Adrienne Young – Eelyn is an Aska who is caught by a competing clan the Riki during a battle. The Aska and the Riki hate each other but when a bigger threat comes in and attacks both clans, is Eelyn the key to bring both clans together against the bigger threat. I finally finished this audiobook. The story was different as far as YA fantasies go. There is a good balance between character development and action. Neither takes precedence over the other. The audiobook was fine. I believe I would recommend this book, but then again I just finished it today. I'm gonna have to really think this over.
What I'm Currently Reading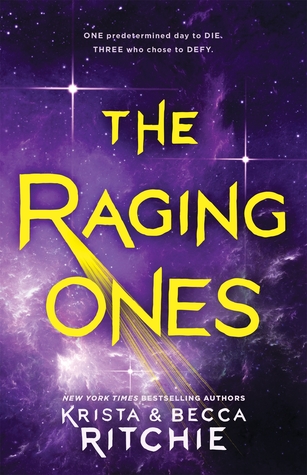 Life After Life by Kate Atkinson – I have been "currently reading" this book FOREVER, but I have finally really sunk my teeth into it and I am LOVING it! Ursula is such a magnificent character and I am loving seeing the different iterations of her life. I had to force myself to put this book down at bedtime yesterday and I have been stealing moments to read it at work. It's so good and I already highly recommend it.
Viper Wine by Hermione Eyre – This is a historical fiction about Venetia Stanley who finds some kind of magic elixer to stay beautiful forever. Or something like that. I have only read the prologue and the first chapter, so I'm still getting into the story.
The Raging Ones by Krista and Becca Ritchie – I wanted to pick this one up over the weekend but after Dewey's ended, I decided to watch the new season of Orange is the New Black instead (I regret nothing). I have read the prologue and first chapter of this and I am already intrigued about where the book is going. This is another ARC that I received for review, so I really want to read and review it before it comes out.
The Argonauts by Maggie Nelson – I started this audio book today. It's pretty short so I'm hoping I can listen to it while I do things around the house tonight and make a considerable dent in it. This is a nonfiction/memoir type book. I have heard really good things about it so I'm interested to get through it.
What I Plan to Read
I don't really have anything for this section. I have been feeling like picking up books on a whim so that's what I fully intend to do. Plus I have 4 books currently on the go, so I really don't know what's gonna happen with those.
What was your favorite read from last week? What are you planning on reading this week? Let's chat in the comments. 
Follow me on social media to see what I'm reading in real time:
Twitter: @amaysn1
Instagram: @tashalikesbooks
Goodreads: AmaysnReads
Much Love,
Tasha