Hey Y'all! Today I'm doing a TBR for the Late-a-thon Readathon that is being put on by Howling Libraries. The readathon runs from January 1 – January 31 and the purpose of the readathon is to catch up on advanced reader copies and review books that you have received and still haven't reviewed. This is more of books that are on my radar out of all of my advanced reader copies. If I can complete half of this list, I will be happy with my progress.
Kiss Me in Paris by Catherine Rider – This is a writing duo and I read their previous contemporary novel, Kiss Me in New York and really enjoyed it. This is a cute contemporary that I expect to read in one sitting.
Tales of the Astonishing Black Spark by Charlie J. Eskew – This is a book that I received from the author for review. From what I gather this is a superhero story that takes place in Ohio. It sounds interesting and I can't wait to see how the story unfolds.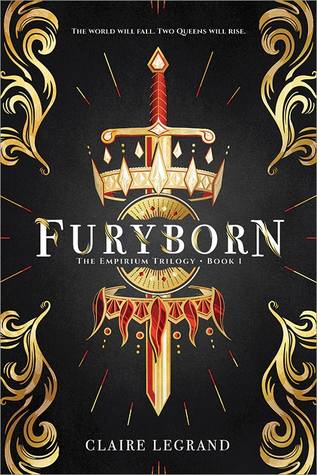 Furyborn by Claire Legrand – Everyone has read this book, except me apparently. This is a dual timeline YA fantasy that follows two different queens. I initially was hearing only fantastic reviews, but now I'm hearing very mixed things. I would like to form my own opinions because I do enjoy a good YA fantasy.
White Fragility: Why it's so Hard for White People to Talk About Racism by Robin DiAngelo – I have been in a huge non-fiction mood, but couldn't figure out what type of non-fiction I want to read. This one seemed the most interesting and I actually have it on audio via Scribd. This should be an interesting read.
Spring Garden by Tomoka Shibasaki (Translated by Polly Barton) – This is a part of the Japanese novella series put out by Pushkin Press. I read one of these last year around this time and I enjoyed it enough. This story is about a divorced man who starts an unlikely relationship with his upstairs neighbor. This is another short one that can be read in one sitting.
Record of a Night Too Brief by Hiromai Kawakami (Translated by Lucy North) – This is another in the Japanese novella series out by Pushkin Press. This is three stories about three woman dealing with romance and loss.
Sugar Money by Jane Harris – I have started this novel before but I didn't finish and I would need to restart it. This follows the slave trade in Martinique. I was interested in the story while I was reading it, but for some reason I just didn't finish.
The Queens of Innis Lear by Tessa Gratton – This is one that I am so excited to read. This is an adult fantasy based on Shakespeare's King Lear. I have heard that it is a dense, slow read but totally worth it. Also, I have heard such good things about Tessa Gratton as an author.
These are all of the books that are on my TBR. I hope to read at least half of this list by the end of the month.
FOLLOW ME ON SOCIAL MEDIA TO SEE WHAT I'M CURRENTLY READING:
Twitter: @amaysn1
Instagram: @tashalikesbooks
Goodreads: AmaysnReads
Book of the Month: https://www.mybotm.com/4f2lrch51bjfw29?show_box=true (Use link and join for $5)
Scribd: https://www.scribd.com/gie/6lag6q (Try for a free month)
Much Love,
Tasha