Hey y'all! Today I wanted to talk about the books that I managed to finish this week and what I am currently reading for this first week of January.
What I finished:
The Gray Wolf Throne by Cinda Williams Chima (Book 3 in the Seven Realms Series) – I am absolutely in love with this series. I only have one book left and I don't want it to be over. The political intrigue is just so good and the romance is just breaking my heart. I will be doing a full review of this book series once I read the final book The Crimson Crown.
What I'm currently reading: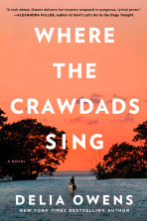 Where the Crawdads Sing by Delia Owens – I have been listening to this on audio since the beginning of last week and I'm slowly making my way through this book. It's a dual timeline narrative one being when the main character Kya is a little girl and another when she is an adult. The writing and imagery in this book is amazing and the story has me hooked. I can't wait to finish this story and see what happens.
Mere Christianity by C.S. Lewis – This is a collection of radio talks that C.S. Lewis gave during WWII about human nature and the basics of being a Christian. I'm completely enthralled by this book and hope to finish it this weekend. I have this out on ebook from the library but I'm gonna be picking up a physical copy soon.
Our Voices, Our Stories Edited by Amy Reed – This is a collection of 21 essays by popular YA authors discussing feminism, the immigrant experience and other political issues. I am enjoying this but I am only reading an essay or two here and there. I hope to read at least 5 more essays over the weekend.
What I Plan to Read:
If you have seen my previous post with my January TBR and Bout of Books TBR pile or my Late-a-thon TBR I plan to pick up a few books off of there. The ones that are currently sticking out to me are: Kiss Me in Paris by Catherine Rider, Jade City by Fonda Lee, and Girls Burn Brighter by Shobha Rao (which I have out from the library). I plan to mood read really for Bout of Books so we shall see in next week's Friday Reads.
What are you planning on reading this weekend? How did you start off your reading year, let's chat in the comments.
FOLLOW ME ON SOCIAL MEDIA TO SEE WHAT I'M CURRENTLY READING:
Twitter: @amaysn1
Instagram: @tashalikesbooks
Goodreads: AmaysnReads
Book of the Month: https://www.mybotm.com/4f2lrch51bjfw29?show_box=true (Use link and join for $5)
Scribd: https://www.scribd.com/gie/6lag6q (Try for a free month)
Much Love,
Tasha