Hey y'all! I'm coming today to do a book tag. It's been ages since I have done one, and this one seemed fitting as most of us have created a plan of attack for our TBRs for the new year.
How do you keep track of your TBR pile.
I usually use a combination of Goodreads, a spreadsheet and my bullet journal.
Is your TBR mostly print or ebook?
They are mostly print books but I do have a sizeable amount of ebooks.
A book that's been on your TBR list the longest.
After looking at my shelf, I would have to say The Sport of Kings by C.E. Morgan. This is a book that I picked up around the time I first found the bookish community. Be looking for it on a quarterly TBR soon.
A book you recently added to your TBR.
I recently added two books to my TBR: Godsgrave by Jay Kristoff and Blood of Elves by Andrzej Sapkowski. Both of these are sequels in series that I really want to continue.
A book on your TBR strictly because of it's beautiful cover.
I'm not a huge cover buyer, however Roses by Leila Meacham is definitely my mood. Also, I believe the books is set in Texas, so it does have its merits.
A book on your TBR that you never plan to read.
I don't really have a book that I don't plan to read but one of my lower priority books is Revenge Wears Prada by Lauren Weiseberger. This is a sequel to The Devil Wears Prada which is one of my favorite "chick-lit" books.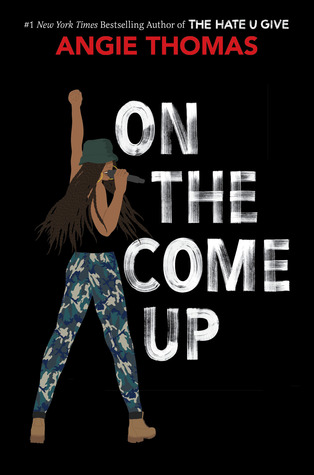 An unpublished book on our TBR that you're excited to read.
This books is clearly, On the Come Up by Angie Thomas. I can't wait to see how her writing improves from The Hate U Give because it was phenomenal in that book. This book is already pre-ordered.
A book on your TBR that basically everyone's read but you.
The Paying Guest by Sarah Waters. Really Sarah Waters in general. I watch a lot of booktubers who read adult books and they are always ranting about how amazing Sarah Waters book's are. This is on my First Quarter TBR so I hope to read it in the first three months of the year.

A book on your TBR that everyone recommends to you.
A Place for Us by Fatima Farheen Mirza, again, was a book that I saw on a lot of favorites list. I really want to get to it and I have had it out from the library for too long.

A book on your TBR that you're dying to read.
Becoming by Michelle Obama. Yes, this is happening, I want to be a part of the conversation.

How many books are on your Goodreads TBR shelf?
I currently have 287 books on my Goodreads shelf.
This is my TBR Book Tag. What is a book on your TBR that you are dying to read? Let's chat in the comments.
FOLLOW ME ON SOCIAL MEDIA TO SEE WHAT I'M CURRENTLY READING:
Twitter: @amaysn1
Instagram: @tashalikesbooks
Goodreads: AmaysnReads
Book of the Month: https://www.mybotm.com/4f2lrch51bjfw29?show_box=true (Use link and join for $5)
Scribd: https://www.scribd.com/gie/6lag6q (Try for a free month)
Much Love,
Tasha