Hey y'all! Today I am doing a Friday reads. This reading weeks wasn't the best, however it was pretty good. I have been participating in Bout of Books all week and it has motivated me to read more throughout the week. Here is what I managed to finish this week and what I'm working my way through. I don't expect to get much reading done over the weekend because it is my son's birthday weekend (his actual birthday is Sunday) and his party is tomorrow. So I am one busy momma this weekend.
What I finished
Where the Crawdads Sing by Delia Owens – There will be a full review up next week because I absolutely loved this book and expect it to be not only a favorite of the year but an all time favorite.
Told in two timeline that eventually converge, Kya is abandoned by her family in the marsh of North Carolina when she is very young and learns to survive on her own. In the alternate timeline, one of the most popular residents in the town is found dead and they are investigating.
This book was poignant, heartbreaking, heartwarming and all around everything that I love in a book. It's worth all of the hype and I'm glad that it was one of the first books that I completed this year.


Mere Christianity by C.S. Lewis – This is a non-fiction book about what, at it's very basis, it means to be a Christian. Without getting into denominations, this book explain in at times simple and at times very complex, but at it's core it just explains basic Christian principles.
I really enjoyed this book overall, at times it got a little in depth for me, who is a Christian, but I loved how his arguments were laid out and I do recommend this book to people who are curious about Christianity and what we believe. I do want a physical copy of this book so that I can re-read it and get different things out of it.

What I'm currently reading (*sigh* There are so many. Why do I do this to myself.):
Leviathan Wakes by James S.A. Corey – This is a hard sci-fi novel about a small crew that is entangled in a big battle with Earth, Mars, and the Belt. I am listening to this on audio and also reading it when I have time. Only I would select a 600 page hard sci-fi for a readathon but alas I did. I am really enjoying it and I am already head over heels for the characters and the way the plot is unfolding. I have about 200 pages left in this so I'm sure I can finish it over the weekend.
Kiss Me in Paris by Catherine Rider – This is a book on my Late-a-thon TBR and I wanted to get into it. It's a contemporary about a girl who takes a trip to Paris to visit all of the places that her mom and dad went on their honeymoon. When her sister, who was suppose to do it with her, has other plans, she is forced to stay with a male friend of her sister and they explore Paris together. Romance ensues. I am not very far into it and it's nothing special and I'm not sure of the main character, however I will continue to give it a try.
Our Stories, Our Voices edited by Amy Reed – This is a YA anthology of essays from 21 female authors discussing rape culture, the immigrant experience, and feminism. I have about 10 stories left so I should finish this over the weekend. I'm enjoying most of the stories but there are some that I just don't like the writing style.
What I hope to read next week: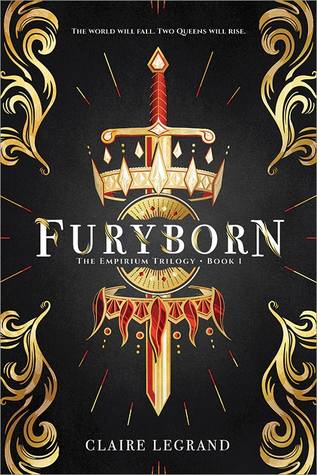 Furyborn by Claire Legrand – This is a dual timeline fantasy following a Sun Queen and a Blood Queen. This is another pick on my Late-a-thon TBR and I'm excited to read it because I have heard excellent things about Claire Legrand's writing.
Girls Burn Brighter by Shobha Rao – I love books set in India or with Indian characters so I'm excited to read this one. This is a contemporary novel that deals with some intense topics of feminism and I think there is sex slavery in this book. I have heard amazing things about this so I really want to get to it.
After these I'm not sure where I'm going to go from there, but I do have Monday off and I may pick up something that I can read in a day while I am off.
What are you planning to read this weekend/over the next week? Let's chat in the comments.
FOLLOW ME ON SOCIAL MEDIA TO SEE WHAT I'M CURRENTLY READING:
Twitter: @amaysn1
Instagram: @tashalikesbooks
Goodreads: AmaysnReads
Book of the Month: https://www.mybotm.com/4f2lrch51bjfw29?show_box=true (Use link and join for $5)
Scribd: https://www.scribd.com/gie/6lag6q (Try for a free month)
Much Love,
Tasha