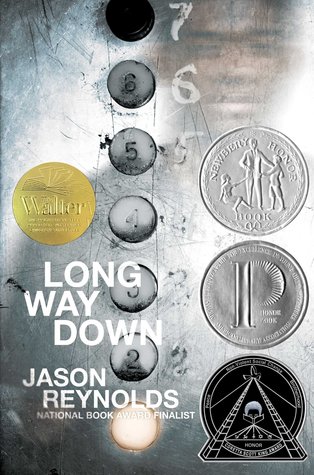 An ode to Put the Damn Guns Down, this is New York Times bestseller Jason Reynolds's fiercely stunning novel that takes place in sixty potent seconds—the time it takes a kid to decide whether or not he's going to murder the guy who killed his brother.
A cannon. A strap.
A piece. A biscuit.
A burner. A heater.
A chopper. A gat.
A hammer
A tool
for RULE
Or, you can call it a gun. That's what fifteen-year-old Will has shoved in the back waistband of his jeans. See, his brother Shawn was just murdered. And Will knows the rules. No crying. No snitching. Revenge. That's where Will's now heading, with that gun shoved in the back waistband of his jeans, the gun that was his brother's gun. He gets on the elevator, seventh floor, stoked. He knows who he's after. Or does he? As the elevator stops on the sixth floor, on comes Buck. Buck, Will finds out, is who gave Shawn the gun before Will took the gun. Buck tells Will to check that the gun is even loaded. And that's when Will sees that one bullet is missing. And the only one who could have fired Shawn's gun was Shawn. Huh. Will didn't know that Shawn had ever actually USED his gun. Bigger huh. BUCK IS DEAD. But Buck's in the elevator? Just as Will's trying to think this through, the door to the next floor opens. A teenage girl gets on, waves away the smoke from Dead Buck's cigarette. Will doesn't know her, but she knew him. Knew. When they were eight. And stray bullets had cut through the playground, and Will had tried to cover her, but she was hit anyway, and so what she wants to know, on that fifth floor elevator stop, is, what if Will, Will with the gun shoved in the back waistband of his jeans, MISSES.
And so it goes, the whole long way down, as the elevator stops on each floor, and at each stop someone connected to his brother gets on to give Will a piece to a bigger story than the one he thinks he knows. A story that might never know an END…if WILL gets off that elevator.
Told in short, fierce staccato narrative verse, Long Way Down is a fast and furious, dazzlingly brilliant look at teenage gun violence, as could only be told by Jason Reynolds. (Goodreads synopsis)
I read this book at the beginning of 2018 and it has still stuck with me as one of the best books I read last year. (Full list coming soon). We follow a young man who is not only dealing with the loss of his brother, but also he is trying to follow the street justice that dictates that he must seek revenge.
It's no secret that Jason Reynolds is one of my favorite authors. His prose is concise and I never feel like he waste a word when he is writing. There are no throw away lines. This book is told in verse and is a quick read but there is so much to unpack.
As someone who has dealt with the senselessness of gun violence, this book really resonate with me. As the main character Will tries to construct his best course of action in his mind, we are taken on his journey as he descends in an elevator to seek the street justice that, he feels, his brother deserves. I re-read the last two verses in this book multiple times and I enjoyed the open ended interpretation that Reynolds leaves you with. This is one of the few books that actually made me cry.
Overall, this poignant, important book does not get the credit that it deserves and I highly suggest that you pick this one up. I read it physically, but I have heard that this book is excellent on audio. I know that if I were to re-read this book that I would gain even more from it.
Much Love,
Tasha
FOLLOW ME ON SOCIAL MEDIA TO SEE WHAT I'M CURRENTLY READING:
Twitter: @amaysn1
Instagram: @tashalikesbooks
Goodreads: AmaysnReads
Book of the Month: https://www.mybotm.com/4f2lrch51bjfw29?show_box=true (Use link and join for $5)
Scribd: https://www.scribd.com/gie/6lag6q (Try for a free month)