Hey y'all! Today I wanted to talk about the books that I read in February. It wasn't near as much as I wanted but, I did read quite a bit. In February I wanted to make sure to read a few books by Black authors and I wanted to catch up/finish series. Here is everything that I completed and read in February. (It's late, I know, this has been typed for over a month.)
Becoming by Michelle Obama (audio) – This is the memoir of Michelle Obama and it was FANTASTIC! The writing was pretty good and getting a behind the scenes look into the Obama family was so much fun. I highly recommend consuming this book via audio because it is just as good as everyone says it is.
China Rich Girlfriend by Kevin Kwan – This is this the second book in the Crazy Rich Asians series. We still follow Nick and Rachael along with the rest of the family. I really enjoyed this one and getting to know some of the other characters better. I hope to complete the trilogy soon and do a full review.
We Should All Be Feminist by Chimamanda Ngozi Adichie – This is a Ted Talk that gave and they made it into a little leaflet. I read this one evening and while I didn't agree with everything in the book, I absolutely respected her opinion on things.
West by Carys Davies (audio) – This is a short dual perspective novelette where we follow a father who decides to go west to chase mammoth bones and his daughter whom he decides to leave back in their hometown in Pennsylvania. The writing of this story was phenomenal. For such a short novel I could see the landscape and feel the characters and care for them deeply. The bond between father and daughter was so amazing. I do recommend this book and the audio was pretty good.
Jade City by Fonda Lee – This is an Asian inspired high fantasy, mafia story and it was AMAZING! We follow the Kaul family as they try to retain control of their island against the Mountain Clan. This is a very complex and interesting fantasy story AND there is a lot of political intrigue, which we know is my jam!
City of Ashes by Cassandra Clare – This is book 2 in The Mortal Instruments series. I decided on a whim to continue the series because the later books in the series intrigue me, BUT this world is so interconnected that you really need to read the prior books. I didn't love it. I don't think it's as bad as people make it out to be but that plotline (you know the one) that started at the end of book one is STILL going throughout this entire book and honestly I hate it.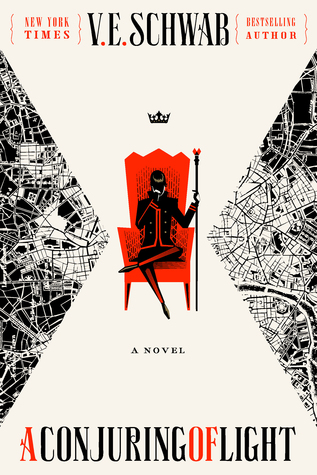 A Conjuring of Light by V.E. Schwab (audio) – This is the final book in the Shades of Magic trilogy, which I have had lukewarm feelings about, and I do feel like this is the best in the series. I really liked to get to know some of the characters more. I liked the way it wrapped up and how it closed this chapter and left it open for more books.
Mirage by Somaiya Daud – This is a solid YA fantasy/sci-fi novel. We follow Amani who happens to be a dead ringer for the Princess. She is taken to the palace to be a body double for the princess who is hated by her people and things happen. This was a fun ride full of political intrigue, subtle romance, friendship, and familial expectations. I didn't know what to expect but I'm so glad that I picked this one up.
Godsgrave by Jay Kristoff – This is the second book in the Nevernight trilogy and it was good. I didn't love it as much as the first one but what I did enjoy was the character growth we saw in Mia. And the reveals at the end of the book had me totally shook.
Blue Lily, Lily Blue by Maggie Stiefvater – This is the third book in The Raven Cycle. We continue the story of Blue and the Raven Boys and it was so good. This is one of my favorites in the story and I wonder where it's going to go.
Washington Black by Esi Edugyan – This book was phenomenal. We follow George Washington Black, a slave on the Faith plantation in Barbados. We follow Washington has he goes from being a slave to being a freeman. I loved the writing and I loved the characters and I loved the commentary. I HIGHLY recommend this book.
These are all of the books that I read during the month of February. I was able to catch up on some series and I even completed a series. I wanted to read so much more, but what can you do. I think my favorite from the month would be Mirage by Somaiya Daud. This was such an unexpected delight.
What was your favorite read of the month? Let's chat in the comments.
FOLLOW ME ON SOCIAL MEDIA TO SEE WHAT I'M CURRENTLY READING:
Twitter: @amaysn1
Instagram: @tashalikesbooks
Goodreads: AmaysnReads
Book of the Month: https://www.mybotm.com/4f2lrch51bjfw29?show_box=true (Use link and join for $5)
Scribd: https://www.scribd.com/gie/6lag6q (Try for a free month)
Much Love,
Tasha