Hey y'all! Today I wanted to talk about everything that I plan on reading over this Easter weekend. I will be going to church on Sunday, but after that, I think that I will just be chilling at the house. I need to clean on Saturday for company on Sunday, so there will be a lot of time to listen to audio books.
What I completed this week:
Blood of Elves by Andrzej Sapkowski – This is technically the first book in the Witcher series, but this is the third book you read in order. My main problem with this book was that I didn't get enough Geralt in this book, who is my favorite character in the series. This book focuses mostly on Ciri, who it turns out, is an integral part of the series. We get a little of her backstory and get to see the progression of her character and her significance in the story. For some reason, this book took me a really long time to read. I will be continuing the series but I hope we get more Geralt in the next book.
Skyward by Brandon Sanderson – I listened to this on audio and I really enjoyed it. YA SFF is my favorite to listen to on audio. This was my first Sanderson and I see why people love his books so much. His world building is fantastic. I could completely see the planet they were on and I was intrigued by the progression of the plot. I am interested to read his adult works now.
What I am currently reading:
Caliban's War by James S.A. Corey – This is the second book in the Expanse series. I really enjoyed the first book, Leviathan Wakes, and I was excited to get to this one. I started this a while ago, but put it down because I wasn't in the mood for it. I am definitely in the mood for this epic space opera now, and this was an excellent tome to select for Tome Topple, because the pace really gets you moving through the pages.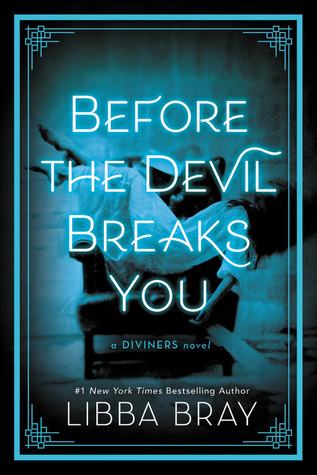 Before the Devil Breaks You by Libba Bray – This is the the third book in the Diviner's series. I had been putting this one off because I wanted to wait to hear when the fourth book was coming out. Libba Bray just announced that the fourth, and final, book will be out the beginning of 2020, so now seemed like the perfect time. I started this audio today, because the audio for this series is fantastic and really the only way I would recommend consuming these books. This another tome that I am reading for Tome Topple.
Seven Blades in Black by Sam Sykes – I have been reading this book since the beginning of the month. I am enjoying it when I pick it up but I haven't been having the strongest reading month. I'm a little less than halfway through this one and hope to complete it over the weekend. This is a read on my Tome Topple and OWLs TBR, so I really want to knock this one out.
What I hope to read soon:
Little & Lion by Brandy Colbert – This is a book that is on my second quarter TBR and also will fulfill one of my OWLs. I haven't been doing so great with my OWLs and I hope to crank out some of these books over the next week. This will be a nice break from all of the SFF that I have been reading.
The Ruin of Kings by Jenn Lyons – This is an epic fantasy that was buzzing around the book community for a while. It was pushed very hard before publication, but I have since not heard a lot about this. I'm interested in the story and am always looking for a new fantasy read. This is another read for tome topple.
Here is everything that I hope to make progress in, if not complete over the next week. I want to finish out the month strong, so I hope to read or listen two a lot of books over the next week and a half.
What are you reading this weekend? Let's chat in the comments.
FOLLOW ME ON SOCIAL MEDIA TO SEE WHAT I'M CURRENTLY READING:
Twitter: @amaysn1
Instagram: @tashalikesbooks
Goodreads: AmaysnReads
Book of the Month: https://www.mybotm.com/4f2lrch51bjfw29?show_box=true (Use link and join for $5)
Scribd: https://www.scribd.com/gie/6lag6q (Try for a free month)
Much Love,
Tasha