Hey y'all!! Today I wanted to do my July TBR. I know what you're thinking, "Tasha you never stick to a TBR." And you would be telling the truth, however, there is a month long readathon that I am so excited to participate and I hope that I can mark off as many prompts as I can get. Pop Culture Readathon is a readathon created by Whitney @lifeWhitme and Lorryn @readingparent. It takes place from July 1 – 31st and this round is 90's movie themed. There are 4 different cards that you can choose to complete, each card has 16 prompts. I want to completed at least 4 prompts per card. Also for each card I picked one library book, one ARC (advanced reader copy), one owned book, and one kindle book. So that's a total 16 books. which I think I can do. Anyway here are the books that are on my radar for each card. I will link the goodreads for each book in the interest of saving time.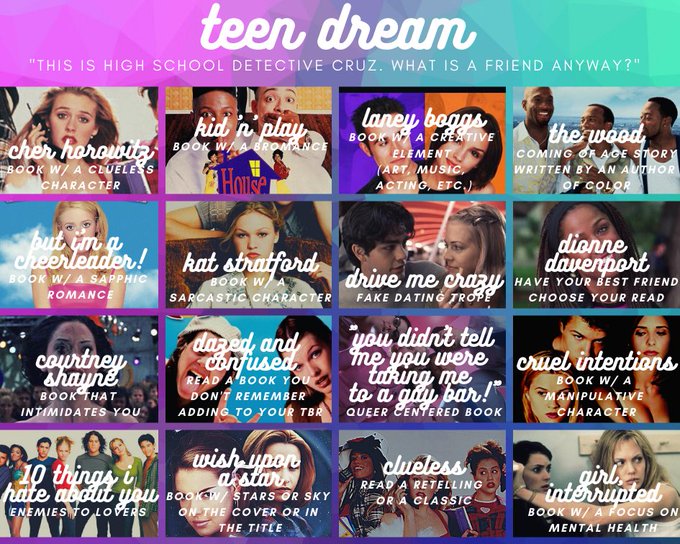 Book with a sarcastic character – Starsight by Brandon Sanderson (library book)
Book you don't remember adding to your TBR – Baby Mine by Kennedy Fox (kindle book)
Coming of Age by an Author or Color – Isaiah Dunn is My Hero by Kelly J. Baptist (ARC)
A Retelling or a classic – Pride by Ibi Zoboi (Owned)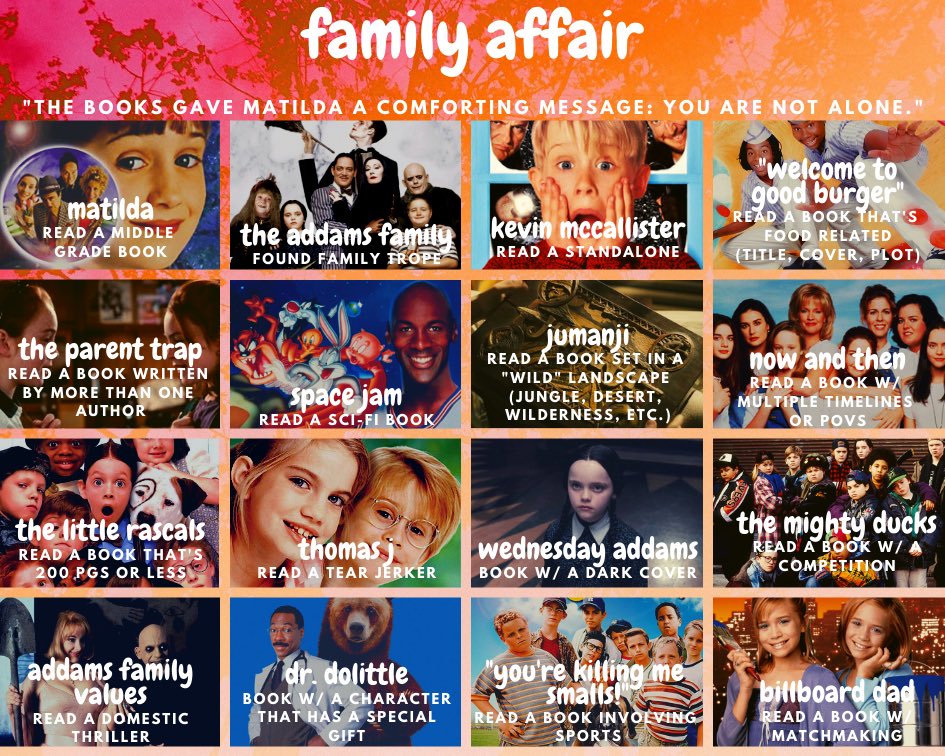 Middle Grade – Tristan Strong Punches a Hole in the Sky by Kwambe Mbalia (library)
Sci-Fi Book – Temper by Nicky Drayden (Owned)
Book with a dark cover – The Night Swim by Megan Goldin (ARC)
A book involving sports – The Foxhole Court by Nora Sakavic (kindle book)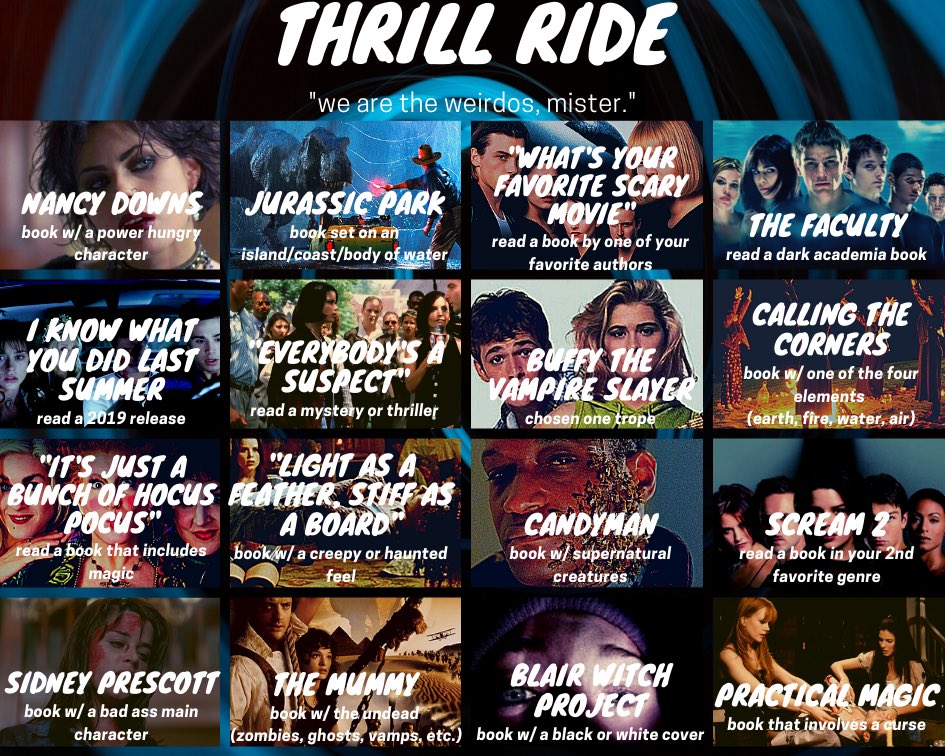 2019 release – Queenie by Candaice Carty-Williams (owned)
Book that includes magic – Legendborn by Tracey Deonn (ARC)
Book with the undead – Dread Nation by Justina Ireland (kindle book)
Book with a Black or White cover – Beyond the Black Door by A.M. Strickland (library)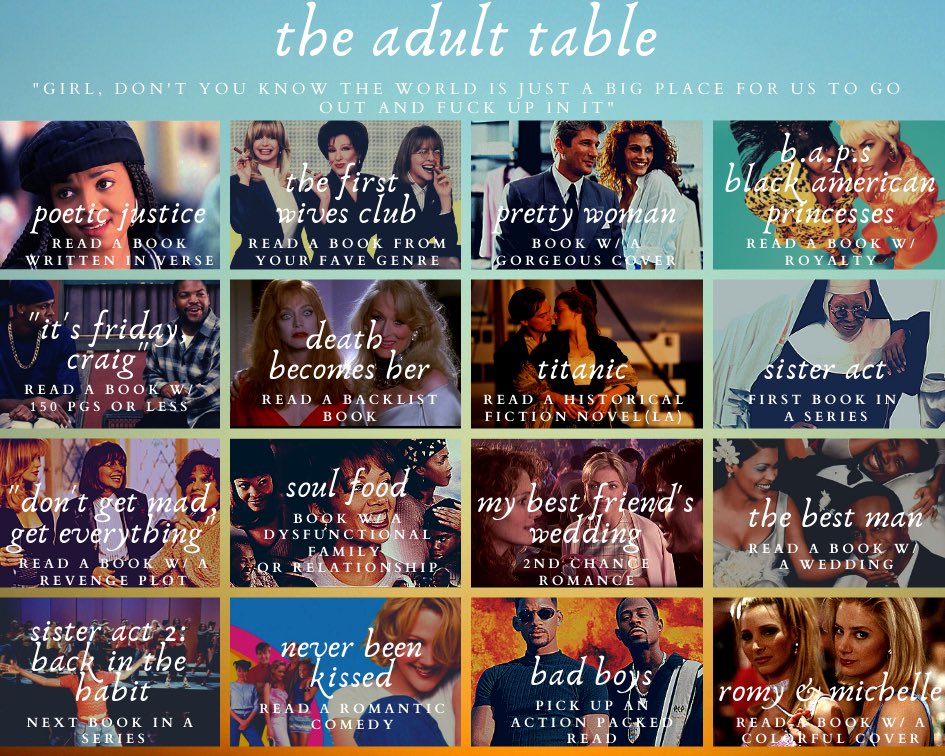 Book written in verse – Clap When You Land by Elizabeth Acevedo (owned)
Gorgeous cover – This is My America by Kim Johnson (ARC)
1st in a series – The Fifth Season by N.K. Jemisin (library)
Next book in a series – The Kingdom of Copper by S.A. Chakraborty (kindle book)

Whew! This is a lot of books! I also have additional selection for other prompts but these are my focus. I like to have a selection of books and mood read from there. Some of these books are ARCs that are coming out soon, others are books for videos and recommendations I want to do. I usually read a lot in July and I hope that this continues.
Are you participating in this readathon? Are you participating in any readathons? Let's chat in the comments.
FOLLOW ME ON SOCIAL MEDIA TO SEE WHAT I'M CURRENTLY READING:
Youtube: https://www.youtube.com/channel/UCGsLJnGwNyxVnSTgWBNQ0fQ
Twitter: @amaysnreads
Instagram: @tashalikesbooks
Goodreads: AmaysnReads
Facebook: Amaysn Reads Blog
Scribd: https://www.scribd.com/gie/6lag6q (Try for a free month)
Much Love,
Tasha